Amazon WorkSpaces: Now with Zero Client access! A Walkthrough with a Newbie
Disclaimer: I am not an I.T. professional. I don't know how to set up Active Directory nor do I dream of Linux terminals. So when we were sent an HP t310 Zero Client A.I.O. and asked to connect it to Amazon WorkSpaces via Teradici PCoIP, I probably seem like an unlikely candidate. But really – this is what the newest VDI solutions are all about, isn't it? Ease not only for the end user, but for the administrator setting it up? If I can do it, surely (almost) anyone can.
Setting up Amazon WorkSpaces to work with a Zero Client is pretty new, though it was promised at launch. Up until recently WorkSpaces was generally accessed via pre-existing computing platforms via a downloadable client from Amazon. It supports Windows, Mac, iOS and Android (as well as Amazon Fire…naturally). Brian reviewed it last year when it launched but didn't want to inundate you with screenshots. You'll get no such reprieve from me.
Set Up
I didn't have an Amazon WorkSpaces account, so I had to set one up. The steps are pretty straightforward. You have to make a few selections. To start, I opted for the Basic (Free) support plan – though a real-world rollout would probably necessitate something with a little more mettle.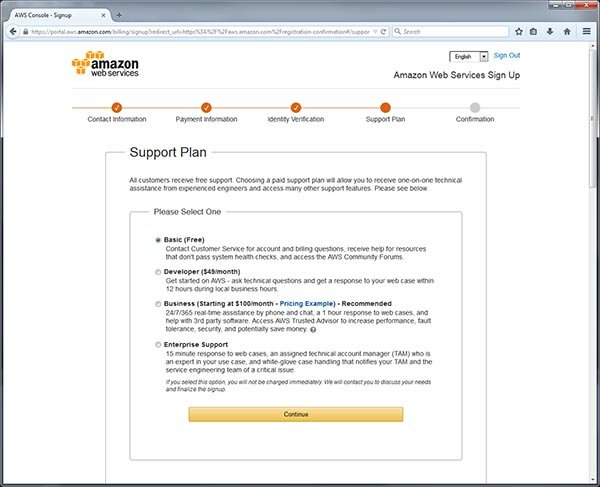 You then need to select your WorkSpaces bundle, which provides you with your Windows 7 license as well as assorted software such as various Office versions, some minor Adobe products and security packages. It also provides you with some hardware choices, centered on the number of virtual CPUs, RAM and storage. I went with the Value Plus package, running Office 2013 on a modest single CPU with 2GB of RAM and 10GB of storage - more on the performance later. This put me at $40 per month.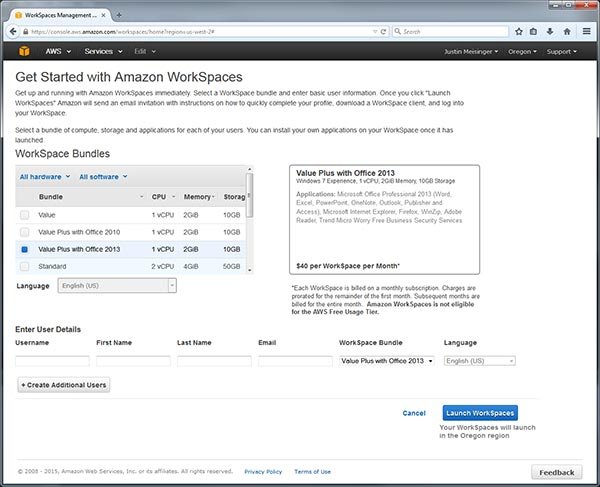 This is also the first point that you can start assigning users to this Windows instance. Also, take note of something – my WorkSpace is hosted in Oregon. If you want your life to be easier setting this up, remember your region for later.
After that, you're all set. You're presented with a very basic WorkSpaces management console that lets your launch an instance. This can take up to 20 minutes (and mine did). But once it's running you shouldn't really ever need to turn it off.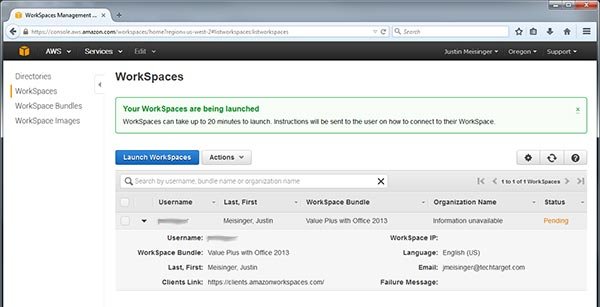 At this point, you're prompted to select a client download version. I downloaded the Windows version just to give it a spin. It worked quite well – just requires a username and password that was previously set up and boom, you're in your instance. Looks like Windows to me.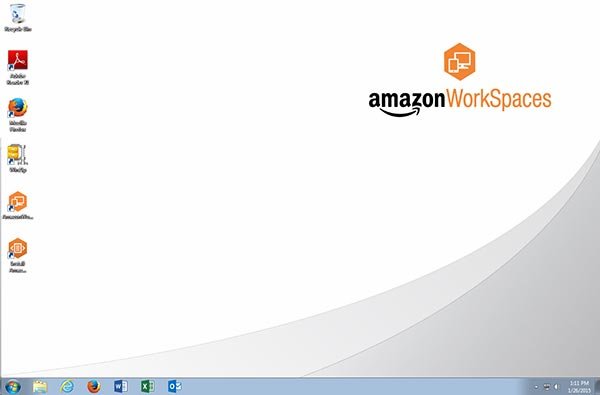 Let's talk about performance for a second. It's not good. In fact, it's dog slow. A single CPU and 2GB of RAM would produce pretty similar results on a local machine, so I'm not surprised, but I am a little unclear why it's even really offered as an option. Your environment launches almost instantly, but a simple task like opening Firefox or Word takes excruciatingly long, to the point Windows doesn't even bother highlighting the taskbar icon for almost 10 seconds. It's one of those 'did I actually click it?' moments. Things like mouse tracking ARE good, so at least it's clear there are no connection issues. But I point this out because I want it to be clear that the performance issues are on the datacenter side, not the client…before we jump to the Zero Client. I felt like double-checking those specs one more time.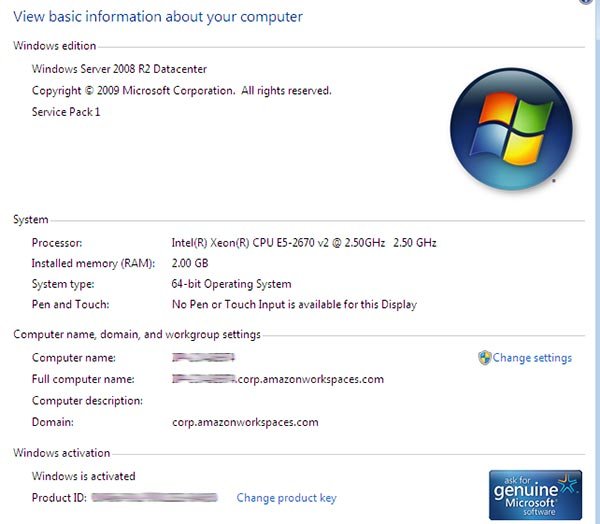 So this is what you're working with. And also note, it's a Windows 7 experience but you're really running on Windows Server 2008 R2.
But enough about WorkSpaces – how do I get the blasted thing running on my HP t310?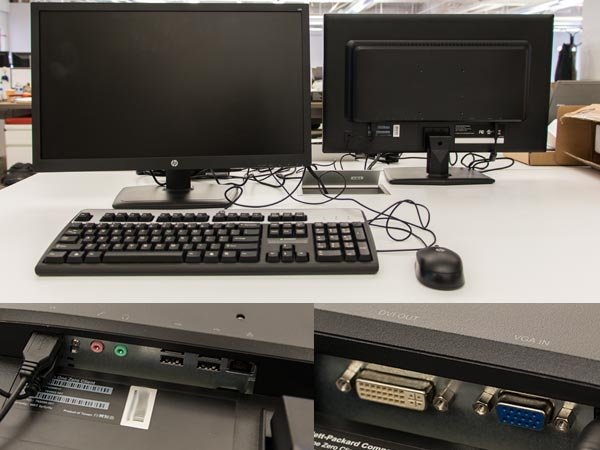 Connecting
The zero client connection is handled by Teradici's PCoIP protocol. While the HP t310 (running VMware Horizon View) had a firmware update to support this connection (zero clients get those?), it's not as simple as just inputting your WorkSpaces IP address and username/password. Beginning in the AWS Marketplace, you need to install Teradici's PCoIP Connection Manager for Amazon WorkSpaces. It's essentially an EC2 instance that brokers the connection between the Zero Client and Amazon's WorkSpaces servers. It's easy to install but does come with some off-putting caveats. For one, running a virtual appliance costs you more money – in this case around $.07 per hour because it requires you to use a medium grade instance. It's not much, but leaving it on all the time for multiple workstations could really add up for some businesses.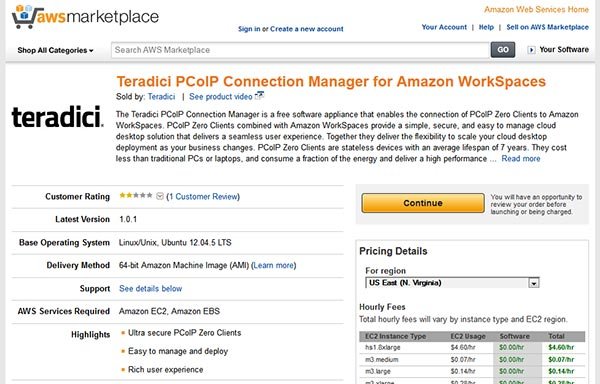 It's also here that, for the non-I.T.-professional such as myself, things start to get rather dicey in terms of configuration (despite reading the documentation). Below is the next configuration screen. There's a lot of important information in there that needs to be properly selected or else you're gonna have a bad time. Don't foolishly assume (like I did) the template will just work. It won't.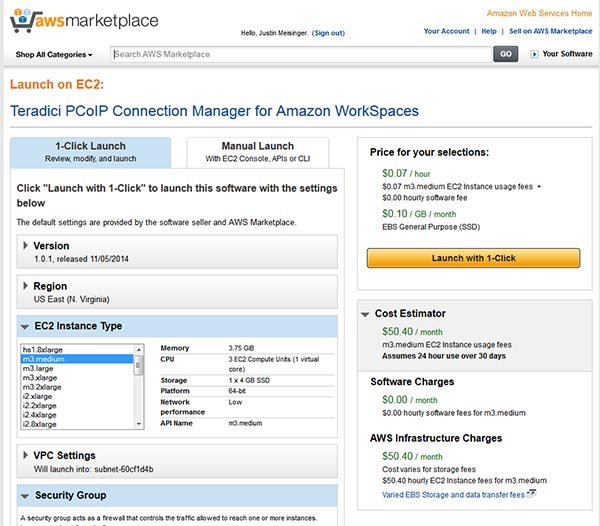 Earlier I mentioned remembering region. That matters here. You can actually select any region, but configuring one region server to talk to another region server is waaaaay outside my purview, so to remain sane, make sure your WorkSpaces and EC2 instance regions match. As to your VPC settings, make sure the configured VPC matches your WorkSpaces VPC found under your Directories section of the WorkSpaces console. And lastly, don't forget to make a security key pair – you'll need that later.
As you can see, our cost estimate is around $50 a month. That raises my total seat cost to $90.
After our virtual appliance is up and running, we still have one more configuration step. You must SSH into the virtual Teradici appliance and point the appliance to the Amazon WorkSpaces instance. I used PuTTY (which also requires you converting the key pair into another format). After logging in, I got hung up here a few places, as I had some difficulty deciphering which IP addresses to assign as well as some key authentication issues. A helpful call with Teradici sorted out my problems.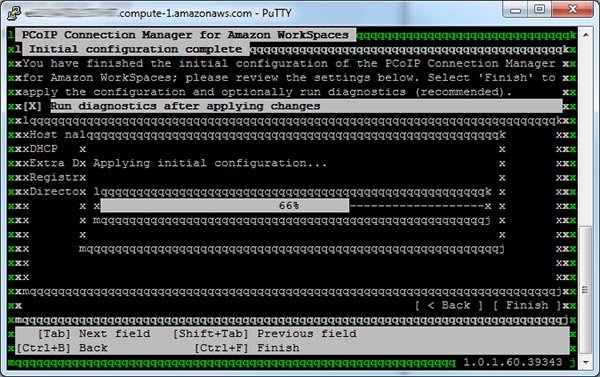 At this point, if you've done everything correctly, it's time to jump on the Zero Client, input the Teradici appliance IP address and see what your work has wrought.
Testing
And now, the moment of truth.
Conclusions
This was definitely a necessary upgrade, especially having been promised since 2013. From a greenhorn's perspective, I wish the configuration of the EC2 client was easier and that the documentation was a little clearer on a few points. I can see some businesses balking at having to run (and pay for) an EC2 instance...especially a mid-tier level one. However, if this is what someone is looking for, it works and appears to work well provided you give it the power to back it up. WorkSpaces is pretty sparse and while it likely meets many business needs it may not meet all of them. I'm also a little wary of how well one can scale out a deployment in this method, though Teradici informed me there are templates that take advantage of Amazon's CloudFormation service to expedite this process. There's also a question of which Zero Clients will be able to support this upgrade. Hopefully in the future the price can drop even further and the interface can become even more user friendly.
View All Videos