Problem solve
Get help with specific problems with your technologies, process and projects.
Virtual desktop benefits that sell VDI
Virtual desktops can simplify the desktop lifecycle and reduce costs. Use this list of major virtual desktop benefits to sell VDI plans to your boss.
Virtual desktop infrastructures simplify desktop management and reduce the typical issues faced when dealing with distributed desktops.
With VDI, desktops are delivered quickly and reliably to any linked location. You control which devices are linked to a virtual machine (VM) -- controlling data management and reducing the potential loss of intellectual property (IP).
This setup also has a significant affect on the cost of each desktop, sometimes reducing it by as much as 40%. You can also reduce the number of images you must manage, especially when working with volatile PC images, or those that are created as needed when users log into the system. Patches and updates are also easier to apply since you often only need to update one core image.
VDI transforms the desktop lifecycle and reduces its number of components (Figure 1). Traditionally, you must procure, image, secure, deploy and then monitor, maintain, back up and retire your physical desktops. With VDI, you only need to generate the original image by creating a reference computer, use it as the core image for all systems, personalize it -- usually the VDI engine performs this -- and then monitor and update it. The desktop broker automatically retires the images when the user logs off.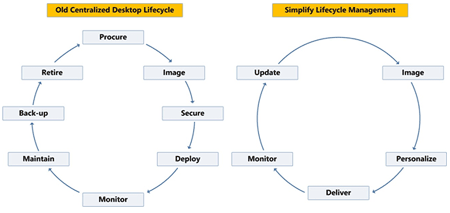 Figure 1 Traditional desktop versus VDI lifecycles. (Click on image for enlarged view.)
Transforming and, in turn, simplifying the desktop lifecycle is just one of the major benefits of VDI. Other advantages include the following:
You can provide centrally managed desktops to users on any endpoint device -- desktops, thin clients, Web clients and Pocket PCs or mobile phones.
Central control enables you to lock down virtual desktops.
Less time can be spent on endpoints -- actual physical PCs -- because they no longer need to be managed as tightly. These endpoints are only needed to provide a remote desktop connection to the virtual desktop.
Service-level agreements are only needed for the central desktop, not for the endpoint itself. Users can be administrators on the endpoints, but locked down on the virtual desktop.
Knowing where the starting point for each PC is in regard to your golden desktop image can reduce costs and improve service stability.
You can create locked and encrypted virtual desktop images that can be time-controlled to meet specific requirements. For example, if you have a staff influx to meet a seasonal business need, you can generate time-controlled PC images for this time.
Keeping a virtual desktop inside the data center will secure information. This gives you more control over IP; you only need to lockdown the image you create so that it cannot access external devices. It's easier to maintain compliance when IP is stored centrally and does not leave the data center.
Complex or sensitive applications can be encapsulated and isolated into specific PC VMs to ensure proper operation. Therefore, the application does not need to interact or coexist with other applications.
These are just a few of the benefits that centralized desktop virtualization can bring to your company. This versatile technology provides a new desktop operational model, making it worth the look.
ABOUT THE AUTHORS:
Danielle Ruest and Nelson Ruest are IT professionals focusing on virtualization and continuous service delivery. They are authors of multiple books, including Virtualization, A Beginner's Guide which covers all aspects of virtualization in datacenters of any size, and Windows Server 2008: The Complete Reference which is focused on building virtual workloads with this new OS. They are currently writing a training guide for Microsoft Exam 70-652: Configuring Windows Server Virtualization with Hyper-V for MS-Press. Feel free to contact them at infos@reso-net.com for any comments or suggestions.
Dig Deeper on Virtual desktop management