Problem solve
Get help with specific problems with your technologies, process and projects.
VMware View: Desktop virtualization's newest fantasy or reality?
VMware View is a new approach to virtual desktops. You can run it on any client, which allows users to take their centralized desktop along with them. But will it become a reality?
This is part one of a two-part series introducing VMware Inc.'s View portfolio and reporting on what VMware needs to do to make this rise over VDI.
VMware is well-positioned to make its latest product announcement, VMware View, a reality in the coming months. It's a portfolio of tools that works together to give users a single view of all of their applications and data in a standard desktop that can be accessed from any device or location. It can even be carried around offline. But while VMware was the first to deliver a Virtual Desktop Infrastructure (VDI), that has been eclipsed by several new centralized desktop virtualization products in recent months.
VMware first introduced VDI after some of its customers began using its server virtualization products -- ESX Server and Virtual Infrastructure -- to host desktop virtual machines (DVMs). Several even built custom scripts that would tie a particular virtual machine to a specific user. Seeing this, VMware quickly realized that virtual desktops, especially centralized virtual desktops, were a new market that it could tap into.
Working with these customers, VMware developed the Virtual Desktop Manager (VDM) to let administrators create desktop virtual machines and assign them to users through Active Directory. The rest is history, and a history that isn't over yet when you see the multitude of vendors that now offer similar -- and often better -- products.
Despite the fact that VMware was first to market with VDI, its product lags behind others in some key areas. For example, Citrix' XenDesktop has the ability to create desktop virtual machines from one single read-only core VM. All other machines are managed as differential files tied to this VM. When you consider that each DVM can easily be as large as 10 GB in size, you quickly realize the benefits XenDesktop has over VDI where each machine takes up its own space. Because of this feature, XenDesktop can easily save upwards of 50% of all disk space required to host DVMs, and that's not the only feature it has over VDI.
It is possible to use a similar storage strategy with VDI today, but you must use a special type of shared storage engine to do so. XenDesktop's differential feature is a software component that is part of every XenDesktop deployment, making it very attractive. Hence, we receive the announcement of VMware View Composer, a tool that will rival XenDesktop's ability to create and provision DVMs on the fly through differentials.
But VMware's desktop anywhere vision goes beyond differential files for each DVM. It also includes the ability to run a DVM offline, something that few if any products offer today. Currently, centralized desktop virtualization is plagued with the same failings as server-based computing, like Terminal Services: You have to be connected to access the service. To do this, VMware will bring to bear its considerable lineup of desktop virtualization tools and link them with VDI to create one seamless DVM experience for users.
According to VMware CEO Paul Maritz, VMware View will allow users to rely on any device -- the standard desktop or laptop running Windows or the Macintosh OS, a Web browser, a public computer, a thin computing device, or even a mobile phone like the iPhone -- to access their DVM. In addition, users will be able to carry their DVM on transportable devices like USB memory sticks or run them offline on their laptops. Better yet, users will be able to make offline modifications within their DVM and have them automatically synchronized with their centralized DVM once they reconnect.
The dream of end-to-end desktop virtualization can soon be a reality for VMware. Once again, Maritz pointed out that VMware has been maintaining a full line of desktop virtualization products and because of this, it has the ability to turn dreams into actuality in a relatively short time period.
In order for VMware View to work as advertised, the company has to come up with several different innovations and link those with its existing desktop virtualization products (see Figure 1).
Figure 1: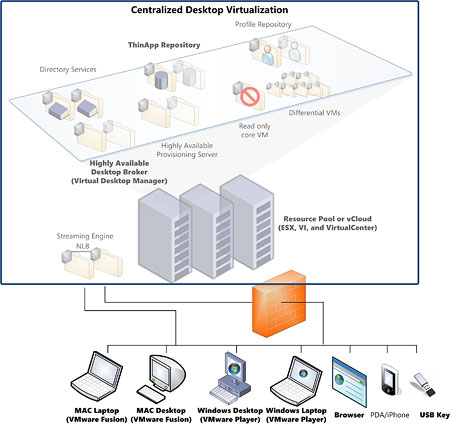 VMware View will allow users to access their VDMs from anywhere and even use them offline. Items in bold are already part of the VMware arsenal.
First, VMware needs the tools to support DVM access from anywhere, and it already has several of these tools. VDI includes the Virtual Desktop Manager, which is the DVM broker and assigns a DVM to each user. VMware Workstation is VMware's flagship desktop virtualization engine, but the company will most likely rely on VMware Player, a free virtual machine execution engine, to run offline DVMs on Windows desktops through Web browsers or on Windows laptops. VMware ACE already lets users carry their DVMs on USB sticks. VMware Fusion lets you run DVMs on the Macintosh OS. So VMware is almost good to go at this level.
Second, VMware needs to improve DVM graphics on endpoint devices. For this, the company has announced it will be working with manufacturer Teradici Corp. to further develop Teradici's PC-over-IP protocol to replace the default Remote Desktop Protocol (RDP) built into Windows and to improve graphics control. Once again, Citrix is one up on VMware here with its Independent Computing Architecture (ICA), a remote protocol that made vast improvements over Microsoft's RDP. Microsoft is also working to improve graphics performance in RDP.
Well, the new VMware protocol can't be far away as Maritz and company demonstrated the use of 3-D graphics in a DVM; an impressive display of Lego's Indiana Jones video game.
Third, the best virtual desktop is the volatile virtual desktop, one that is built as needed when users log in. When you think about it, a desktop is made up of three components: the desktop operating system including updates and core utilities, the applications required by the user and the user's data and preferences (see Figure 2). To build a desktop on the fly, you need the core desktop image, virtual applications that are streamed to the client when needed. You also need profile virtualization to ensure that all data is stored outside of the desktop image. This way, you can assign any desktop to any user, which is one of the best promises of centralized desktop virtualization.
Once again, Citrix XenDesktop includes at least part of this solution in XenDesktop since it has an application virtualization and streaming component in XenApp. Microsoft is also relying on XenDesktop for its centralized desktop virtualization offering, but with its own Application Virtualization and streaming offering. VMware has ThinApp, its application virtualization solution, but while this tool packages applications in a streaming format, it does not include a streaming engine, at least not yet.
Figure 2: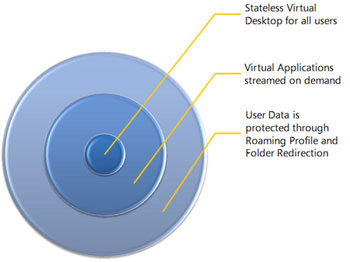 A volatile desktop is composed of three layers.
In part two of this two-part series, Danielle and Nelson Ruest will explain what components VMware will need to acquire in order to help View regain mastery over VDI.
Click here to read part two of this series, Key components missing from VMware View portfolio.
About the Authors: Danielle Ruest and Nelson Ruest are IT futurists specializing in IT infrastructure optimizations and IT efficiency. Danielle is Microsoft MVP in Virtualization and Nelson is Microsoft MVP in Windows Server Failover Clustering. They are authors of multiple books, the Windows Server 2008, The Complete Reference for McGraw Hill Osborne and the MCITP Self-Paced Training Kit (Exam 70-238): Deploying Messaging Solutions with Microsoft Exchange Server 2007 for MS Press. Their upcoming book is called Virtualization: A Beginner's Guide from McGraw Hill Osborne. They will be presenting on Hyper-V at the Data Center Decisions conference in Chicago in October. They are also delivering a virtual tour across the U.S. Feel free to contact them at infos@reso-net.com for any comments or suggestions.