Evaluate
Weigh the pros and cons of technologies, products and projects you are considering.
Tame productivity losses with application virtualization
Application virtualization has the potential to help with licensing as well as upgrades, patches and new deployments.
Wonder how much productivity is lost because of applications misbehaving? Application virtualization might be just the ticket to address that nagging problem.
Application virtualization -- or desktop streaming -- provides one or more applications that can be streamed to a user's desktop and used without actually being installed on the desktop. Rather than seeing the whole remote desktop displayed, the user sees only an icon for the application. Or it may be accessed via a Web browser.
Application virtualization differs from desktop virtualization, in which a client connects to another computer -- usually a server -- and a predefined desktop is downloaded. In desktop virtualization, IT managers get a copy of the whole desktop as if they had logged into the console. They can then control the environment, access files and run applications based on the privileges of the user account designated for the access.
A number of vendors have entered the application virtualization market, including Symantec Inc. (acquiring Altiris), Microsoft (with SoftGrid after acquiring Softricity), Citrix Systems Inc. (XenApp from XenSource) and VMware Inc. (Thinstall).
Is your computer or application hanging or crashing? Or can't install the app? This is typically because of conflicts on dependant drivers and components that can cause registry conflicts. For instance, a Web app may require Java runtime environment 5.0 while an older app requires v2.0.
One app may require Crystal Reports v5 while another requires v4, and they both cannot run on the same machine. Ditto for Adobe Flash Player, various ActiveX components and DLLs. So the help desk gets called, and they spend more time on it. Or maybe the problem warrants a support call to Microsoft or a vendor, while the user can't work or is severely limited.
It gets to be a real challenge to maintain an environment where all your apps can run without conflicting with another. I know of one large company that dedicated whole terminal servers to hosting desktops running a single application on them. The company's users would have to log onto a different machine to run a different application.
In addition, maintaining accurate licensing counts and pushing out upgrades and patches and new deployments consumes a lot of IT resources. Application virtualization at least has the potential to minimize all this.
So how does application virtualization actually work? Typically, the application runs in an abstraction layer, sometimes called a virtualization layer or "package." It's a protected environment that uses its own support files that can't conflict with other apps installed native to the client or running in other virtual layers.
Citrix's product, XenApp, acquired from XenSource, has client-side application virtualization and server-side application virtualization. The client-side virtualization streams the app to the user's desktop, and it runs in a virtual layer. The server-side virtualization product runs the application on a server in the data center for security. It uses its Independent Computing Architecture, or ICA, protocol to push the user interface of the application to a remote client running the ICA client software. Think of this as the old terminal services method -- but instead of displaying the entire desktop from the server, you see only the application.
So just how fast is the application virtualization bandwagon rolling? It is definitely making progress. A SearchWinIT.com reader survey in October 2007 reported that slightly more than 46% of the 838 respondents said they would be watching application virtualization (see Figure 1), evaluating it or deploying it in 2008. Desktop virtualization lagged slightly, with 39% of respondents watching the technology, evaluating it or deploying it in 2008 (see Figure 2).
Figure 1: What best describes your company's plans for application virtualization in 2008?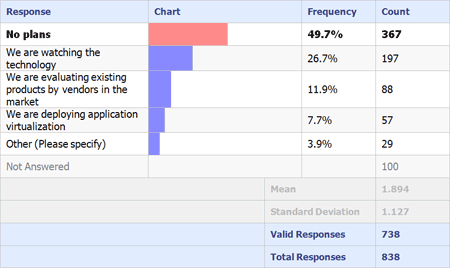 Source: SearchWinIT.com 2007 Purchasing Intentions Survey, October 2007
Figure 2: What best describes your company's plans for desktop virtualization in 2008?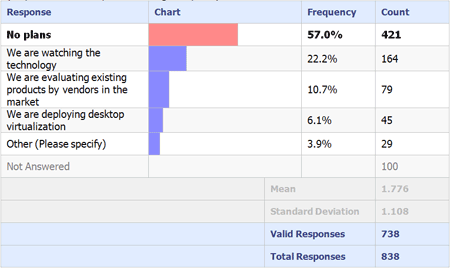 Source: SearchWinIT.com 2007 Purchasing Intentions Survey, October 2007
Some of these products, such as Thinstall, are still in beta. This is indeed exciting technology with a bright future, but we are still on the implementation threshold. Your IT staff will need to get up to speed on how to deploy this, so certainly it deserves to be examined. Each product will usually have its own software to develop the application packages. That will take time.
Here is what you should do to get ready for application virtualization:
Determine the need. Look at application virtualization if your environment has:

A wide diversity of applications and a history of client downtime caused by application issues.
A large number of applications that need to be centrally managed for patches, updates and licensing.
A need to shorten and simplify deployment.
High costs related to maintaining client PCs.

Look at whether desktop virtualization would be a better choice for your environment.
Ask yourself if you are really attached to those client PCs because they give your IT staff a comfort zone.
Certainly application virtualization -- and desktop virtualization -- isn't for everyone. Do some research. There is a wealth of information and you can sign up for lots of free evals and betas. Take it out for a spin.
ABOUT THE AUTHOR:
Gary Olsen is a systems software engineer for Hewlett-Packard in Global Solutions Engineering. He wrote Windows 2000: Active Directory Design and Deployment and co-authored Windows Server 2003 on HP ProLiant Servers. Olsen is a Microsoft MVP for Windows Server-File Systems.
Dig Deeper on Application virtualization and streaming