ra2 studio - Fotolia
Seven pitfalls to avoid when picking a DaaS platform
A DaaS project can fail because of a variety of issues, including not fully vetting the service provider or overlooking system integration complexities.
Desktop as a service is valuable option for delivering desktops to users that eliminates many of the complexities that come with supporting physical desktops and VDI.
A DaaS platform does carry its own risks if IT professionals fail to account for security or the total cost of ownership, for example, so they should be sure to plan ahead.
Failing to plan ahead
Planning ahead goes beyond determining the number of desktops. It requires performing the research and analysis necessary to fully understand what the project needs to succeed. IT must carefully prepare for DaaS by outlining the project's goals, gathering functional requirements, examining workflows and more. If IT does not know what it needs or what to expect, the project could be delayed, cost more than anticipated or deliver inadequate services.
IT should also account for whether or not the DaaS platform must support persistent or nonpersistent desktops or both, while accounting for issues such as how to deliver applications, what desktop images they need and more. It's also important to determine where resources such as domain controllers, file servers, and application and user data will live.
Failing to consider the user experience
If users cannot rely on their desktops to be available when and where they need them, they will grow frustrated, productivity will suffer and the project could fail.
To deliver a quality user experience (UX), consider when and where users work, the number of concurrent users at any given time and how those numbers might fluctuate. IT pros should also account for the types of applications users work with and whether they need to support peripheral devices or second monitors. Before choosing a DaaS platform, IT should fully understand how users perform their jobs and what it takes to ensure that they can continue working efficiently.
Failing to fully account for security and privacy
Before signing up with a DaaS provider, IT should try out the product and conduct its own tests.
Security issues can result in a lot more damage than just a failed DaaS project. Compromised data can lead to hefty fines, ongoing lawsuits and seriously tarnished reputations. When researching a DaaS platform, IT pros should learn everything they can about how the provider protects data at rest and in motion and how it ensures that private and sensitive data is not compromised.
If regulations and compliance are a concern, IT should also verify that the DaaS provider can meet the applicable standards, such as the Payment Card Industry Data Security Standard. As much as possible, learn how the DaaS provider implements security, how it stores the data and who has access to the data. There might be some flexibility when addressing other pitfalls, but there is no leeway with security and privacy.
Failing to consider system integration complexities
A DaaS platform rarely works in isolation from other systems. Users might need to authenticate to connect to on-premises directory services, access corporate resources in different locations or connect with multiple cloud services. Failing to account for the intricacies of hooking up the various systems can result in delays and cost overruns. The last thing an organization wants is to discover late in the game that it cannot establish connectivity with its legacy systems.
IT must carefully evaluate the DaaS platform's capabilities for integrating with other systems, such as remote data centers or third-party services. It should also understand if the platform uses open standards, if it includes predefined connectors, if it needs middleware and more. The team must come out of its evaluation with a complete understanding of the effort and resources it will take to integrate the platform with its own systems.
Failing to fully vet the service provider
Organizations that sign up for a DaaS provider without fully understanding what they're getting for their money risk inadequate service and having to jump ship after launching the project. It is up to IT to learn all it can about the provider and the services it offers, accounting for everything from the underlying infrastructure to service-level agreements. Unwanted surprises after implementing a DaaS platform can be expensive and time-consuming.
IT should pay particular attention to the levels of performance and availability the DaaS provider promises as well the mechanisms in place to support reliability and disaster recovery. In addition, IT should determine the degree to which it can scale the desktops, the types of support available and the ability to customize the DaaS deployment. Another key step is researching the provider's financial stability and reputation.
Failing to account for management tasks
DaaS proponents tend to paint a nearly management-free picture of DaaS where the desktops practically run themselves. Although DaaS can simplify administration, it does not eliminate it. The DaaS provider handles the infrastructure only. IT must still manage desktop images, applications, policies, profiles, updates and more. As with any product, IT pros should understand what it takes to run DaaS and what tools are available to do so, otherwise they may be unprepared to deploy and maintain the desktops when the time comes to implement them.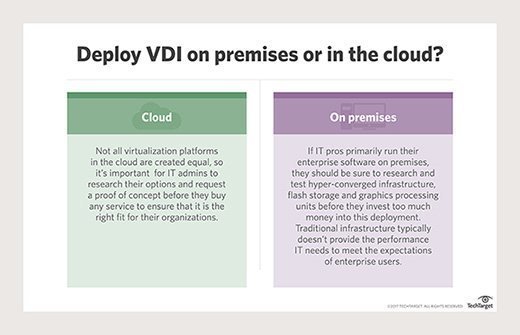 Before signing up with a DaaS provider, IT should try out the product and conduct its own tests, while getting hands-on experience with managing the desktops. The DaaS provider should offer a centralized portal for controlling the desktops. IT pros should be able to easily create images, deploy desktops, implement applications, and manage user and application data. They should also be able to monitor and control desktop operations and carry out infrastructure-specific tasks such as assigning a remote desktop protocol to a set of desktops.
Failing to calculate the total cost of ownership
Although DaaS is inherently more predictable than do-it-yourself projects, such predictions are only as good as the planning that goes into the DaaS project. Failing to carefully evaluate all the resources necessary to implement and maintain a DaaS platform can result in unexpected fees and expenses.
Not only must IT consider the subscription fees themselves, accounting for usage fluctuations, but also the resources it needs to maintain and support the desktops, integrate DaaS with other systems, migrate user and application data, and more. Plus, if IT wants to sign up for optional services -- such as premium support -- it must pay for it.
Dig Deeper on Cloud-hosted virtual desktop and application strategy