JRB - Fotolia
Selecting the right conversion tool for your P2V migration
These tools can help you move your physical desktops or servers to virtual machines. See how to select the right one for your environment.
After you decide that you want to virtualize your environment and you select the products to use, the next step...
Continue Reading This Article
Enjoy this article as well as all of our content, including E-Guides, news, tips and more.
usually involves some sort of conversion process -- taking a running physical desktop or server and moving it to a virtual machine. Although you can set up a new VM from scratch, it's easier -- and faster -- to begin with a physical machine that is set up with all the applications you want in your virtual world.
The tools in the table below can help in this physical-to-virtual (P2V) migration, and each supports a different collection of features.
| | | | |
| --- | --- | --- | --- |
| Product | What else besides P2V? | VM disk formats supported | Price |
| Acronis Backup and Recovery v10 Advanced Server Virtual Edition | Agentless backup, de-duplication, bare-metal restore | VMDK, VHD, Xen | $2,000 |
| Double-Take Move | V2P*, V2V, Live Migration | VMDK, VHD | $295 |
| Novell PlateSpin Migrate | V2P, V2V, Live Migration | VMDK, VHD, Xen | $300 and up |
| Paragon Go Virtual | P2V only | VMDK, VHD | Free (VM Professional version for $70) |
| StorageCraft ShadowProtect Server | Backups | VMDK, VHD | $1,000 |
| Quest (formerly Vizioncore)vConverter | V2P, V2V, Live Migration, Continuous Protection | VMDK, VHD, Xen | $300 |
| Quest vConverter SC | P2V only | VMDK, VHD, Xen | Free |
| VMware vCenter Converter Standalone | P2V only | VMDK, VHD** | Free |
| VMware vCenter Converter | Live Migration | VMDK | Varies depending on vCenter installation |
| Citrix XenConvert | V2V | VHD, Xen | Free |
* V2P converts virtual images to a physical machine; V2V converts and migrates virtual images, including from one hypervisor format to another.
** VMware Standalone can convert Microsoft disk images created by Virtual PC 2004 or 2007, or Virtual Server 2005.
Why isn't Microsoft on this list?
Microsoft does have a motley collection of P2V tools that can create virtual hard disks (VHDs) for Hyper-V. Indeed, Windows Server 2008 R2 includes live migration of running VMs. However, for general-purpose conversions, you are better off with a third-party source.
To ensure that you pick the best -- and most cost-effective -- tool for your environment, consider the following questions.
Can I get by with one of the free tools? VMware, Citrix, Paragon and Quest (formerly Vizioncore) all make free versions of their software, and several other vendors offer 15- or 30-day trials. It's worth seeing if the free software can handle your servers and desktops. Furthermore, the free versions are sometimes more capable. For example, Linux P2V is supported in the free VMware vCenter Converter Standalone and not on the paid vCenter plug-in. Likewise, Paragon Go Virtual allows you to adjust memory and disk parameters as well as convert the VM file into another disk format, as shown in Figure 1.
Figure 1: You can convert VM files into different disk formats with Go Virtual. (Click to enlarge.)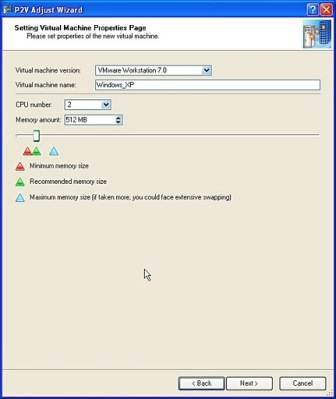 Which virtual disk image formats and hypervisors are supported? All of the tools -- except Citrix's -- support VMware's Virtual Machine Disk Format (VMDK), and except for VMware, they all support Microsoft's Virtual Hard Disk Image Format. VMware supports some of the older Microsoft disk image formats, and some of the tools support other hypervisors such as those of Citrix or VirtualBox.
Do I want just P2V features? The move from a physical to a virtual machine may not be enough for your needs. For example, you may need to bring a VM back to a physical machine or move a VM running on one host to another. Several products, such as Double-Take Move, vConverter and PlateSpin Migrate, include these additional features. Furthermore, Prowess Software's Smart Deploy lets you start with a Windows Image File format installation DVD and directly convert it into a VMDK, which can be useful when deploying a large number of Windows 7 desktops and Windows Server 2008 machines.
Which desktop and server operating systems are supported? Some of the tools may not convert Windows 64-bit operating systems, Linux and Windows 7 machines. For example, although PlateSpin and VMware both support an extensive list of OSes, they don't support Windows 7. In addition, for many of the products, if you are using a Linux server you will first need to take the server down and reboot it with a special CD to obtain access to the file system. This may also need to be done with your Active Directory and database servers, because most of the conversion products don't copy any open files.
Do I want to convert an existing physical backup image? If so, then consider Acronis or StorageCraft's products. These tools convert from their own backup images to a wide variety of VM disk formats, and if you are already familiar with the Acronis disk-imaging tool, then this is a good place to start. The advantage of using a backup-related product is that you don't have to take down your running server or worry about open file issues.
How much automation do I need? Depending on your P2V project, you may need to clone a single-base image to multiple VMs or automate the conversion of many different physical servers to their own separate VMs. The more advanced tools like PlateSpin, vConverter, Quest and the vCenter tools can help in these situations.
Figure 2: Quest offers a wide variety of automation tasks in the conversion process. (Click to enlarge.)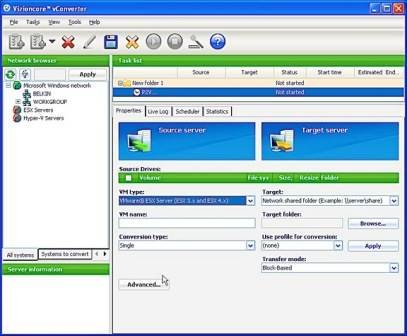 Do I have multiple physical disk partitions that need conversion? Some products only convert your system boot partition, while others can handle multiple disk partitions. In addition, certain tools can also save the converted image to a network or external drive.
For more information about P2V conversions, tips and best practices, check out the following:
---
ABOUT THE AUTHOR
David Strom is a freelance writer and professional speaker based in St. Louis. He is former editor in chief of TomsHardware.com, Network Computing magazine and DigitalLanding.com. Read more from Strom at Strominator.com.
Dig Deeper on Virtual desktop software and vendors