Evaluate
Weigh the pros and cons of technologies, products and projects you are considering.
Presentation virtualization: Centralized app management in Windows Server 2008
Using RemoteApp with Windows Server 2008, admins can ease the burden of application management and reduce help desk calls related to application operation issues.



Application management in distributed environments has always been an issue for most Windows systems administrators. One of the major hurdles that admins face is application distribution – the deployment of applications to all of the endpoints that need to be managed.
One good way to avoid deployment issues is to rely on presentation virtualization. Presentation virtualization relies on a centralized application that is shared through technologies, such as Microsoft's Terminal Services, among all users. This technology is deemed presentation virtualization because only the presentation layer of the application -- its screens and dialog boxes -- is pushed out to the endpoint. On the endpoint, keyboard and mouse input is captured and returned to the server hosting the shared application.
Many administrators are already familiar with Terminal Services -- or the Remote Desktop, as it is often called -- because it provides one of the best models for Windows server administration. When used with end user applications, presentation virtualization provides a strong application administration model because applications are centralized and only need to be installed on a few servers. Traditionally, however, you need to share the entire server desktop for users to be able to access a shared application; hence the Remote Desktop moniker. This is no longer the case with the release of Windows Server 2008.
Relying on RemoteApp with Windows Server 2008
Windows Server 2008 now sports a powerful new Terminal Services model called RemoteApp. Basically, RemoteApp allows you to share an application through Terminal Services, but this time, only the application is shared. The user no longer needs to work with the Remote Desktop. The application appears on the user's desktop on its own and looks as if it is installed locally. Shortcuts to the shared applications can then be distributed in two ways (see Figure 1):
First, you can use the traditional Remote Desktop Protocol (RDP) file format. RDP files are remote connections that link up to the RemoteApp.
Second, you can distribute the shared application through a Windows Installer or MSI file. The advantage of using an MSI is that it will automatically link all of the user's documents to the shared application, allowing the user to double-click on a document to launch the shared application.
Figure 1. Using Windows Server 2008's RemoteApp feature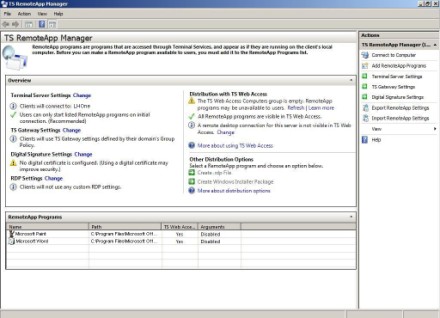 Whichever mode you use will provide complete transparency to the end users. The only time they will realize the application is remote is when they lose connectivity and cannot link up to the server hosting the application. RemoteApp is not the only change in Terminal Services in Windows Server 2008, but for end users, it is the most significant.
Relying on Citrix XenApp
Users of Terminal Services will also be familiar with Citrix XenApp (formerly dubbed Presentation Server). Citrix Systems Inc. in fact is the originator of Microsoft's Terminal Services and XenApp provides much more functionality than the default features found in either Windows Server 2003 or 2008.
First, Citrix XenApp relies on the Independent Computing Architecture (ICA) protocol for remote connections rather than the Remote Desktop Protocol used by Microsoft. ICA has better functionality and better performance, especially when working with high-resolution graphics. Second, XenApp has offered remote applications on an application-only basis for several years, which means its presentation virtualization model is more feature-rich than the one Microsoft includes by default in Windows Server 2008. Third, and most important, XenApp supports application virtualization.
When you prepare an application with XenApp, not only do you prepare it for sharing, but you also virtualize it and abstract it from the operating system. This means you no longer have to worry about potential conflicts or cohabitation issues when multiple applications reside on the same host. What's even better is that you can now stream the application to the desktop or mobile PC making the remote connection. Once the application is streamed to the local system, users no longer need the remote connection to work with it. Applications become completely transportable and can be used in any scenario, connected or disconnected. There is no doubt that this model is much more compelling than the central application model.
Figure 2. Streaming Applications through Citrix XenApp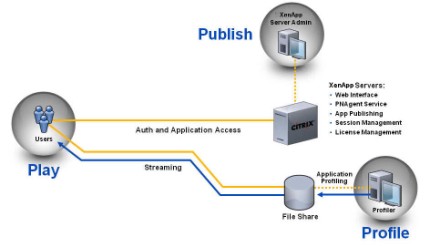 Preparing and managing applications in a distributed computing world is a daunting task. Presentation virtualization helps reduce issues by centralizing applications. Whether it's through "free" technologies, such as RemoteApp on Windows Server 2008, or through paid technologies, such as Citrix XenApp, one thing is for sure: Any method administrators can use to reduce application management overhead is a boon to their organization. Take a close look at presentation virtualization. It can save time and, most importantly, reduce help desk calls related to application operation issues.


ADMIN GUIDE TO APPLICATION VIRTUALIZATION
- Application lifecycle management made simple with app virtualization
- The problem with traditional application management practices
- Can admins rely on built-in Vista features for application support?
- Centralized app management in Windows Server 2008
- Combine app virtualization with streaming
Danielle Ruest and Nelson Ruest are IT professionals specializing in systems administration, migration planning, software management and architecture design. Danielle is Microsoft MVP in Virtualization and Nelson is Microsoft MVP in Windows Server. They are authors of multiple books, including the free Definitive Guide to Vista Migration for Realtime Publishers and Windows Server 2008: The Complete Reference for McGraw-Hill Osborne. For more tips, write to them at info@reso-net.com.
Dig Deeper on Virtual desktop software and vendors