Problem solve
Get help with specific problems with your technologies, process and projects.
Key components missing from VMware View portfolio
VMware's View portfolio could become a reality with the addition of seven key components.
This is the second part in a two-part series on VMware's View portfolio. Part one focuses on whether this portfolio can become a reality.
As mentioned in part one, VMware is well positioned to regain mastery over VDI through VMware View, but it is currently missing several components:
The ability to run a DVM on a PDA such as the iPhone or even Windows Mobile devices. This will require a new virtual machine player or VMware's planned custom Remote Desktop protocol.

The integration of a better Remote Desktop protocol, which will have to be installed as a core utility within desktops and remote devices. VMware has announced that it will work with Teradici Corp. to integrate its PC-over-IP protocol to meet this need, but that is not its only improvement at this level. VMware is also working with Wyse Technology Inc. -- maker of thin clients -- to license Wyse's TCX-MMR software to improve VMware's remote multimedia experience and TCX-MDS software to increase its multi-display support. Both software products run on the endpoint device and therefore have no impact on back-end server performance while improving the end-user experience. These software products will be available for both thin clients and full-fledged PCs. Overall, VMware will provide multi-protocol support, letting users choose between the default Microsoft RDP, Teradici's PC-over-IP, the Wyse products or even other protocols from HP and Sun.

The ability to install VMware players without administrative rights. This could be done with a package created with ThinApp, an agentless application virtualization tool, allowing you to run any application on any system, even public systems through standard user rights.

The capability to stream DVMs to offline containers such as laptops. Also, the ability to stream virtual applications to volatile desktops. Streaming desktops and applications is like streaming videos: You only need a core amount of information -- sometimes less than 10% -- to be able to begin using the tool, saving bandwidth and supporting the application on demand concept. VMware does not have a streaming engine right now. Symantec Corp., which also offers application virtualization through its Software Virtualization Solution (SVS) Professional offering, has one of the best streaming engines on the market through its acquisition of AppStream. AppStream can stream desktops as well as applications, but Symantec is not using this component in its offering at this time.

The ability to synchronize changes from an offline source toward the centralized desktop virtualization environment. If users are to carry their DVM with them, then the changes they make while offline must be captured in some way.

The ability to create differential DVMs from one central read-only DVM image and provision them as needed based on user demand. Right now, XenDesktop can pre-populate volatile DVMs in anticipation of user demand. For example, if you have 500 users logging in between 8 a.m.- 9 a.m., XenDesktop can ensure that all of the required DVMs are created beforehand to increase system response to user demands. VMware has the broker with VDM, but does not have a differential engine or a provisioning tool.

The ability to virtualize user profiles to support volatile desktops and capture user changes. However, this can be done with basic Windows technologies, such as the roaming profile and folder redirection, so the need for a third-party tool is not pressing. Microsoft was the first to invent profile virtualization by embedding this capability in Windows, a capability that provides offline support through data caching in the local device. With desktop virtualization, profile virtualization takes on new meaning and becomes a core part of any VDI solution.
It will be some time before VMware View becomes a shipping product, but at least VMware has the right vision regarding the desktop issue: having hundreds or even thousands of DVMs running from one single core image; having only one single image to update and modify when needed; letting you access this image from anywhere at anytime; capturing and protecting all of your changes, online and offline. Tying the user to one single desktop image is the right direction for centralized desktop virtualization. If anyone can do it, it is VMware.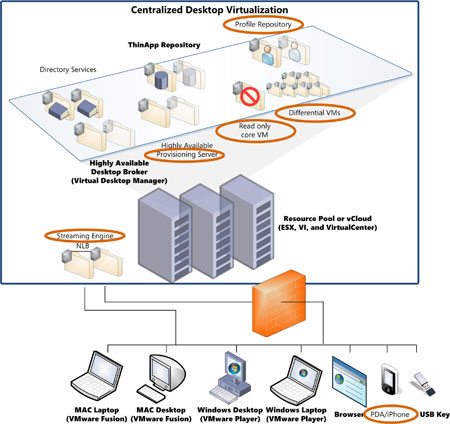 VMware founded and created the server virtualization market. It was also the first to run VDI. And, despite all of the baying hounds at its heels right now, VMware is still the market leader and intends to stay there. VMware View will definitely let the company stay there, at least in the VDI market. We're looking forward to having constant access to our own personal desktops anywhere we go, anytime we need them. Information anywhere, anytime. Now where did we hear that before?
ABOUT THE AUTHORS:
Danielle Ruest and Nelson Ruest are IT futurists specializing in IT infrastructure optimizations and IT efficiency. Danielle is Microsoft MVP in Virtualization and Nelson is Microsoft MVP in Windows Server Failover Clustering. They are authors of multiple books, the Windows Server 2008, The Complete Reference for McGraw Hill Osborne and the MCITP Self-Paced Training Kit (Exam 70-238): Deploying Messaging Solutions with Microsoft Exchange Server 2007 for MS Press. Their upcoming book will be Virtualization: A Beginner's Guide from McGraw Hill Osborne. They will be presenting on Hyper-V at the Data Center Decisions conference in Chicago in October. They are also delivering a virtual tour across the US. They can be reached at infos@reso-net.com for any comments or suggestions.
Dig Deeper on VMware virtual desktop software