How a third-party RDP client can help VDI shops
VDI shops can use Microsoft's built-in RDP client to connect users to remote desktops and apps, but some third-party options provide extra features that can really help.
Microsoft includes a native remote desktop protocol client with every modern Windows desktop OS, but there are a number of third-party options on the market with capabilities that go far beyond what the native client offers.
At the most basic level, third-party RDP clients perform the same job -- provide connectivity to remote sessions -- as the native client built into Windows OSes, but many third-party RDP clients support a wider variety of device types and are generally better suited for the enterprise. It is therefore worth considering whether there is any benefit to purchasing a third-party RDP client or if it is better to stick with Microsoft's native client.
As a result, the decision comes down to the features a third-party RDP client provides that the native client can't and whether those features offer any real benefit to the organization. Of course, evaluating features can be a tedious process because there are so many commercial and freeware RDP clients available and there is no standard feature set.
Browser-based RDP clients
Some third-party RDP clients function as browser extensions. The Xtralogic RDP Client, for example, is available through the Chrome Web Store and exists as an extension to the Google Chrome browser. Like the native client, the Xtralogic RDP Client provides connectivity to an RDP host. The difference, however, is that the entire RDP session takes place within a web browser.
Parallels Client strives for consistency
Another popular third-party RDP client is the Parallels Client, which was previously known as the 2X RDP Client. Parallels tries to provide a consistent end-user experience regardless of the type of device a user works from. The Parallels Client is not truly universal, but it does offer clients for OSes such as Windows, Linux, Apple macOS, Apple iOS and Google Android, as well as devices such as Windows Phone, Google Chromebook and even Raspberry Pi.
The Parallels Client is primarily intended to provide connectivity to the Parallels Remote Application Server, but it also functions as a standard RDP client (Figure A).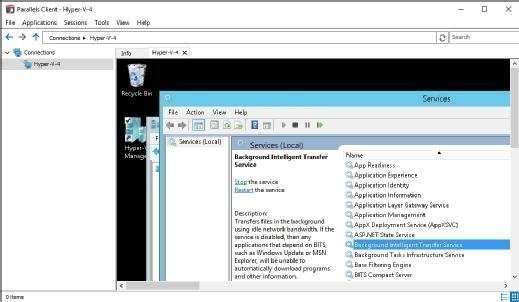 Parallels' approach to RDP is geared toward providing the best possible experience on small-screen devices, which would ordinarily have difficulty working within an RDP session. For example, users can run apps in full-screen mode and select both text and graphics with a single finger. The touch interface also supports single-finger drag and drop, as well as copy and paste.
The Parallels RDP Client also provides some nice options on desktop PCs. For example, the client can span the remote desktop across multiple monitors.
IGEL puts the focus on scalability
IGEL Technology's approach focuses primarily on scalability, which the company has emphasized in three major ways.
IGEL Technology's approach focuses primarily on scalability.
First, IGEL created a standardized client called the IGEL OS, a hardware-agnostic OS that acts as a client. IGEL offers devices configured to run IGEL OS, but IGEL also offers a Universal Desktop Converter that admins can use to install the IGEL OS onto existing hardware. For users who work from personal devices, IGEL offers a bootable USB flash drive containing the IGEL OS.
Second, IGEL designed IGEL OS to act as more than just an RDP client. Although the IGEL OS does indeed support RDP, it works as a Citrix or VMware Horizon client as well. The IGEL OS also supports many other session types.
Finally, IGEL created a universal management suite specifically designed to manage IGEL OS clients. The management suite allows admins to configure policies, update firmware and more.