Anterovium - Fotolia
Get started
Bring yourself up to speed with our introductory content.
Deliver single apps via Horizon 6 RDSH application pools
Delivering a full desktop can be excessive if users only need access to a few legacy applications. VMware Horizon View 6 allows IT to publish individual apps through an RDSH farm.
With application pools in an RDSH farm, organizations can deliver individual VMware Horizon View desktop applications to workers without all the add-ons of a full virtual desktop.
Sure, IT can use the Remote Desktop Session Host (RDSH) farm feature in VMware Horizon View 6 to set up and publish desktops, but admins can also link application pools to an RDSH farm to just provide the apps. VMware has gotten more serious about RDSH desktops, but application pools will also grow in importance, as more workers need to access Windows applications from their mobile devices. In those cases, they'll likely prefer interfacing with a specific app over a full desktop.
Prepare your farm
Application pools are built on top of RDSH farms. A farm is a collection of RDSH servers that have the same configuration, with all of the same applications installed and available to users. Usually, the RDSH servers are deployed from the same vSphere template to make them as alike as possible.
[App pools] allow application delivery without all the extras -- like a desktop and Start menu -- which was unavoidable in previous versions of Horizon View.
IT admins can set up their organization's farm in Horizon View with display protocol and timeout settings. The farm can deliver a single desktop pool, multiple application pools or both in conjunction.
One element that differs between desktop and application delivery via an RDSH farm is the Windows shell. Windows requires that an application has a user interface with window management and other services -- aka the shell. On a desktop, the shell is usually Windows Explorer, providing the Start menu and window management, as well as other useful services.
For an application pool to present just the application, VMware created a shell replacement -- View Unity Shell. IT can publish the application in its own window and resize or move the app on the Horizon View client without the RDSH's Start menu or any of the other Explorer shell overhead.
Pool your applications
Application pools use session sharing, where a user launches multiple application pools and all of the pools live in one remote desktop session, on one host, using the same instance of VMware's shell. By sharing a session, there is no need to re-run the login scripts for each application. After launching the first application pool, subsequent app pools launch nearly instantaneously. Sharing a shell also lowers the company's resource overhead.
An application pool is linked to a single executable on the RDSH farm. When the user launches the app pool, they get a window on their client that contains the application running on the RDSH farm. There is no Start menu or desktop from the RDSH farm, just one application. This is a little surreal on a Mac, where users will see a Windows application floating on the Apple OS X desktop (Figure 1).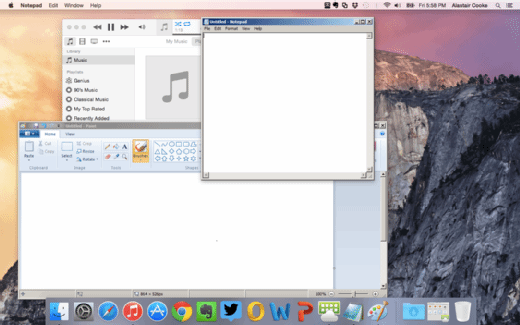 The process to define an application pool is pretty simple. Just identify the executable and choose the pool name before giving users permission to access the pool. For instance, set up a help desk application by entering the path to the executable (Figure 2). The Start Folder and Parameters fields work the same as on a normal Windows application shortcut. Notice that users cannot select an icon for the pool; it uses the default icon for the executable.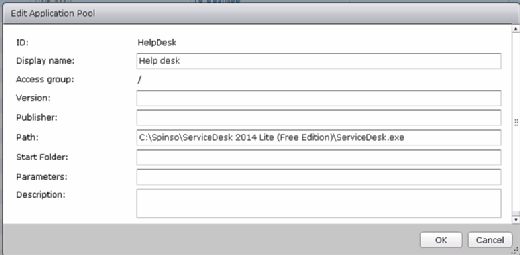 There is even a wizard mode that allows IT admins to choose from the shortcuts on the RDSH server's Start menu. They can change the pool name and entitle users, or create an app pool simply by clicking the box next to each application (Figure 3).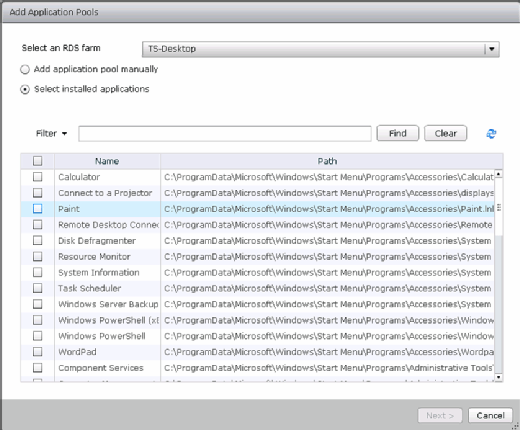 Interact with the View client
The Horizon View client doesn't have the most exciting interface, because it's really supposed to disappear and let you get on with using desktops. But application pools will see a bit more action, because the user has to return to the client to launch each application.
The Horizon View client inherits the icons for the application pools from the apps themselves (Figure 4). These are the same icons that users are used to seeing inside their regular desktop, so the learning curve should be gentle. It would great if VMware added a way to automatically have application pools appear on the Start menu of a client -- a feature included in the Citrix client for several years now.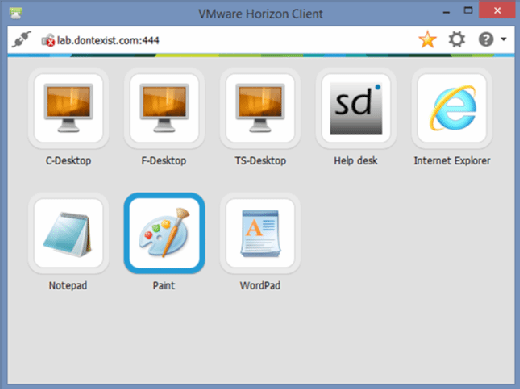 We are in a post-PC era, so it's a definite positive that VMware has a functional mobile client for Horizon View; the abilities to launch application pools and switch between apps are both touchscreen friendly. With the Android client, it is possible to place application pool icons on the device home screen.
RDSH application pools allow application delivery without all the extras -- like a desktop and Start menu -- which was unavoidable in previous versions of Horizon View. With the transition into a computing world full of mobile devices and non-Windows operating systems, the ability to deliver legacy applications with a lot of the legacy OS will enable gradual application modernization.
Dig Deeper on VMware virtual desktop software