Ericom Connect v7: A rewrite of its VDI product that seems more modern than Citrix or VMware!
Yesterday Ericom released Ericom Connect v7, the latest version of their VDI & RDSH desktop and app virtualization solution (formerly known as AccessNow). Connect is a complete rewrite which was two years in the making.
Yesterday Ericom released Ericom Connect v7, the latest version of their VDI & RDSH desktop and app virtualization solution (formerly known as AccessNow). Connect is a complete rewrite which was two years in the making. It focuses on enterprise scalability (supporting 100k concurrent users), ease of use (install everything in 19 minutes), and reporting based on actual useful business intelligence (thanks to their new data architecture I'll get to in a bit).
From a technical standpoint, Ericom did away with the traditional SQL database and config files. "That's 1980s technology," they said, and it's not what newly-designed modern systems are based on. Instead, Connect has a distributed grid-based architecture where they moved the entire database and business logic into memory. This grid is distributed across multiple Connect servers and can scale to millions of transactions per second. While that's overkill right now, Ericom wanted to design something that would still make sense 10-15 years from now. (There's still a SQL database for backup / offline storage.)
Anyway, the grid has huge scalability, reliability, and high availability. It's got alerts, logging, and real-time reporting. So really all the pieces for legitimate business intelligence are built right into the grid.
Ericom Connect v7 architecture
We already mentioned that the Connect Servers create this in-memory grid to hold all the configuration and BI information. Then on the backend behind them are all the hosts users actually connect to. There's an Ericom Connect Host Agent running in each Windows host, and they support RDSH, VDI, and physical desktops. The host agents are pretty straightforward and talk to the grid to report session counts, health, stats, etc.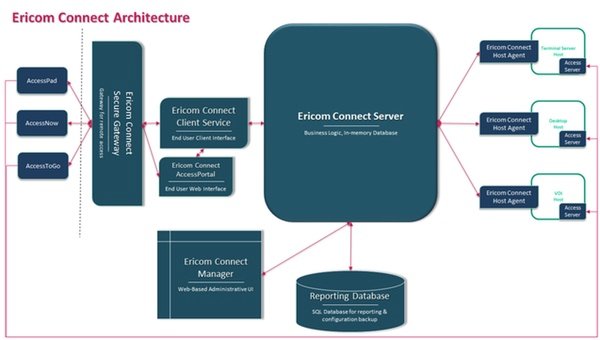 On the front end, there's a client service that connects the end user clients to their actual sessions. The actual connection ends up being directly between the the client and the Connect agent in the session, (possibly with a load balancer and/or an Ericom Connect Secure Gateway in between).
On the client side, Ericom has clients for Windows, Mac, Linux, HTML5, iOS, Android, Chomebook, and BlackBerry.
Management
Management is done via a web-based dashboard. The new dashboard is based on widgets and looks nice and modern. (Waaaaay better than the AccessNow admin console!)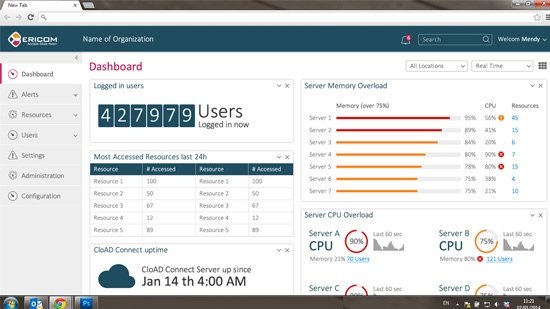 The whole thing just feels really intuitive. You can create groups of applications, groups of servers, and groups of users that you then manage as a group. So you can associate a group of apps with AD items and apply groups to hosts.
(Everything in the management console is scriptable. Like all good products, their own management interface uses the same scripting interfaces that are available to you, so you know you can do everything.)
Connect also has this very cool "Launch Simulation" feature which is where you can see exactly what an end user would see when they login as well as all the business logic behind the scenes that created that vide. So you say "Show me user bsmith" and it will show all the apps they'd see as if they were connected, and then you can click on one and it would show what server they would connect to as well as all the specific settings for that session and where those policies came from.
What's missing? VM management. (And that's a good thing!)
Perhaps the biggest "feature" of Connect is something that's not included at all—VM, image, and provisioning management. That's right, Ericom Connect v7 does not have features to manage the provisioning of images or to manage individual or pools of VMs. And this is a good thing!
About a year ago I wrote Cloud platforms diminish Citrix XenDesktop/XenApp's value. This is the opportunity for VMware. I guess I should have said it's the opportunity for Ericom, because this is exactly what Ericom did.
My basic premise was that in the old days when everything was physical, we needed our desktop virtualization product / server-based computing product to manage all that stuff. MetaFrame had to do server image management. Citrix Provisioning Services had to copy and boot up dozens of client instances off of a single master image.
But in 2015 when everything is virtual, there are already plenty of other products that do this which you already have. Heck, you probably already have too many of these products and one of your problems is figuring out which ones you use! Seriously, when you need to clone a VM, is that something that you do in vSphere? Or your storage product? Or maybe your storage product via vSphere? Or SCVMM? Or…???
So really if you already have all these ways to grow, shrink, copy, delete, clone, build, and deploy VMs and disk images, do you really want another way to do it from your desktop virtualization vendor? I would think not. (Especially since theirs would probably suck since they're in the business of desktop virtualization—not image and VM management.) So in Ericom's case, they spent their efforts on building this grid and their connection broker and their BI and their clients and their protocol enhancements while letting you use whatever else you want to actually manage your infrastructure.
The bonus here is this means Ericom Connect v7 is good to go regardless of the type of infrastructure you have. Physical, virtual, hyper-converged, cloud, DaaS, AWS, RDSH, VDI… they don't really care. Stand up a Connect Server, drop their host agent into the Windows environments you're connecting to, and you're done. (The host agents register themselves when they come up.)
The bottom line
I really, really like Ericom Connect v7. It looks and feels like a modern polished product. WAY more polished than XenDesketop / XenApp (though that's not hard), and feels as good as VMware View 6 when you're using it. Everything just feels pretty dead simple, and there are a lot of things around the reporting and analysis that Citrix doesn't even have after 20 years.
I understand that Ericom is not going to displace XenDesktop/XenApp or View, but after looking at Connect v7 it is safe to say this is something that has a place in the enterprise. Definitely worth piloting before making a Citrix or VMware desktop virtualization decision.
Dig Deeper on Virtual desktop infrastructure and architecture