Devolutions Remote Desktop Manager makes me wish I was an admin again
Devolutions Remote Desktop Manager is a tool that just about every systems admin can use to make their lives easier.
It's no secret that these days I do a lot less managing of desktop virtualization environments that I did in the past. I love what I do now, but every once in a while a product comes along that I can picture myself happily using in the alternate universe where I still manage thousands of virtual desktops. It happened with ControlUp a few years ago (and they continue to impress), and it's happened again with Devolutions Remote Desktop manager.
If you're not familiar with Devolutions, they're Montreal-based company that can trace its roots back to 2004 when founder/CEO David Hervieux was working as a consultant and wanted a tool to centralize logins and passwords for remote desktop connections. He created the first version of the product for himself, sharing it with friends but keeping it under the radar. Things changed in 2009 when he got a call from Desktone asking for a white label version. An agreement was struck, and David used that money to start a proper company. In 2010, the first version of Devolutions Remote Desktop Manager (RDM) was released to the public. After a large expansion in 2012, focused on sales and marketing in addition to development resources, Devolutions currently employs around 45 people.
Remote Desktop Manager is a tool for administrators that allows you to aggregate all of your remote server connections (it's not even limited to desktops), including logins, passwords, VPN connections, and even double-hops, into one interface. When you see it for the first time, it will be immediately apparent that this product was created by engineers, for engineers. This isn't a fancy client for end users, this is a tool for use by system administrators, consultants, and service providers.
Let's take a look at some of the features:
Centralized logon storage
RDM can logon information for all of the connections, either in Devolutions Password Vault product or in an identity management product that you already have. You may do this yourself already, pulling out the credentials and pasting them when needed, but with RDM it's all integrated for you.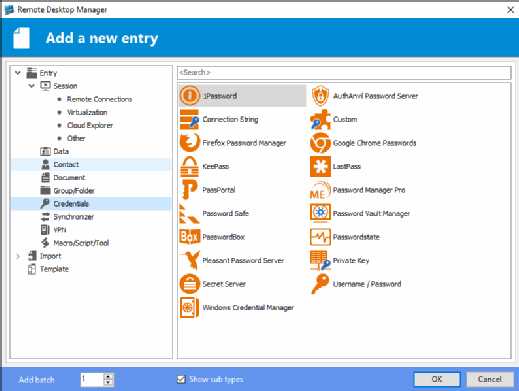 VPN Connections
This might be my favorite feature. RDM allows you to create VPN connection templates that you can then apply to each remote connection you want to make. They have configuration options for nearly all of the popular VPN platforms, and it will only use them as needed.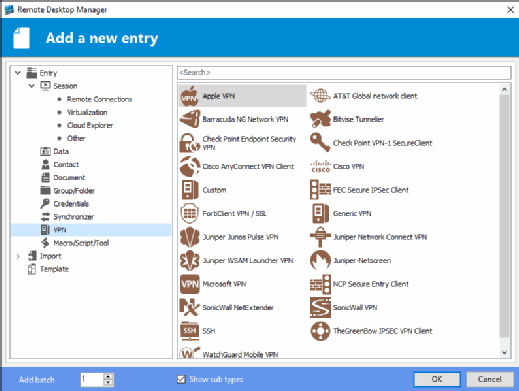 For example, if RDM determines that a machine isn't directly accessible via ping or port scan, it will automatically assume you need the VPN connection (if it has one configured). This gives you the ability to support many customers from a single program.
Extensive add-ons and extensions support
Add-ons and extensions are integral to RDM, and they've build up a huge number of supported systems and technologies through the two mechanisms. Add-ons are created by Devolutions, whereas Extensions are community-driven. For example, in the screenshot above, most of those VPN connection options were installed via an Add-on. Add-ons and Extensions can be used to expand connectivity and management capabilities can be replicated making it entirely possible that the only two apps you need open during the day are a web browser and RDM!
It's not just limited to RDP
I went into this thinking RDM would be limited to RDP, and boy was I wrong. RDM can connect via HDX, PCoIP, VNC, NoMachine NX (through a community-sourced extension) and many other remote desktop clients. In addition to that, it can also connect to systems via SSH, FTP, HP iLO, Dell iDRAC, and many others.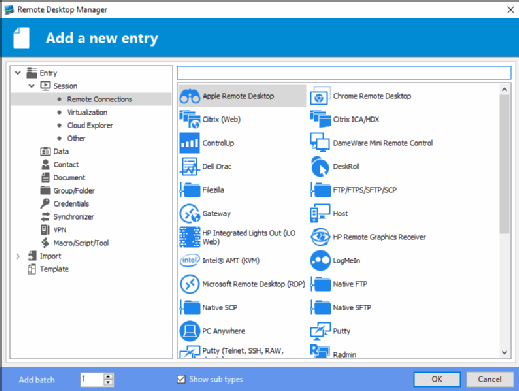 Systems Management & Monitoring
I touched on this in the Add-ons and Extensions section, but RDM can also be configured to let you manage and monitor systems using native APIs through extensions. You can manage SCCM, Hyper-V, SQL, vCenter, NetScaler, and much, much more. They even recently announced integration with ControlUp so that each app can leverage resources from the other. You can also integrate it RDPSoft's RDP connection quality monitoring.
Double-Hop Support
Some situations require you to do what's called a double-hop to get to the desired server, which is to say you have to connect to one remote desktop, and then connect from there to your desired system. By placing RDM on the middle server along with an agent called RDM Jump, this double hop can be completed automatically every time you connect.
Centralized Configurations
Last on the list (but seriously, this list could go on for a while, so it's not nearly the last cool thing) is the fact that you can use a centralized configuration to manage what each administrator can see and do in RDM. This is especially applicable to service providers with multiple clients and dedicated admins for certain groups of clients. This is a feature of the Enterprise version, and it can use an array of a backend data stores, from SQL, S3, SQL Azure, Access, MySQL, SFTP, or even Devolutions own server.
Even the free version gets some love, though, because they can plug into Dropbox so that you can have access to your datastore wherever you are.
Wrap-up
I can't believe how many features Devolutions incorporated into this product. It's a tool that every admin should have, not just desktop virtualization admins. Most of the features that you see in the application were requested by the community, and there are more coming with each release. Their upcoming 11.5 release will be coming out in just a few weeks.
You can try the Enterprise Version of Remote Desktop Manager for free just by downloading it at RemoteDesktopManager.com. No registration or key is required (though there is a little notification window that pops up when you launch it reminding you that you're on the eval). Prices start at $119.99 per user for Remote Desktop Manager Enterprise. Site and Global licenses are also available. They also have a free version that will work for many people.
Dig Deeper on Terminal Services and Remote Desktop Services