kentoh - Fotolia
AppSense-LANDesk marriage leads to a honeymoon for IT
LANDesk has a product portfolio that includes nearly everything but the type of user environment management AppSense specializes in. The AppSense-LANDesk deal is too good a fit to not go well.
You know that feeling you get when you see two people that were meant for each other finally get married? That's how I felt when I heard that LANDesk acquired AppSense.
For AppSense's entire existence until early 2012, the company focused on desktop virtualization -- specifically user environment management (UEM). AppSense showed slow, steady growth, and it was generally a successful mid-tier company with a top-tier product line. It had competition from the likes of RES Software, Immidio -- which VMware acquired in January 2015 -- and a few others, but the market for managing end users was large enough to support everyone.
But then AppSense made a strategic mistake, wading unsuccessfully into the world of enterprise mobility management (EMM) at the expense of its UEM product, AppSense Environment Manager. AppSense is back on course now, and its acquisition by systems management mainstay LANDesk should further put customers at ease. In turn, LANDesk expands its user profile management capabilities, which was one of the few holes in its surprisingly well-rounded product portfolio.
History of AppSense
EMM started to take shape in 2012, and there was a prevailing sentiment -- which generally still holds true -- that EMM is closely related to desktop virtualization. AppSense bought into this theory, and in an attempt to increase growth and set the company up for the future, maybe even an IPO, the company brass decided they would branch out to mobility.
In many ways, that decision made sense. All desktop virtualization and EMM shops really care about is providing users with secure, reliable access to the applications and data they need to do their jobs. The problem is, when AppSense decided to move toward EMM, it shifted too many resources to its MobileNow EMM offering and left its UEM product line to stagnate.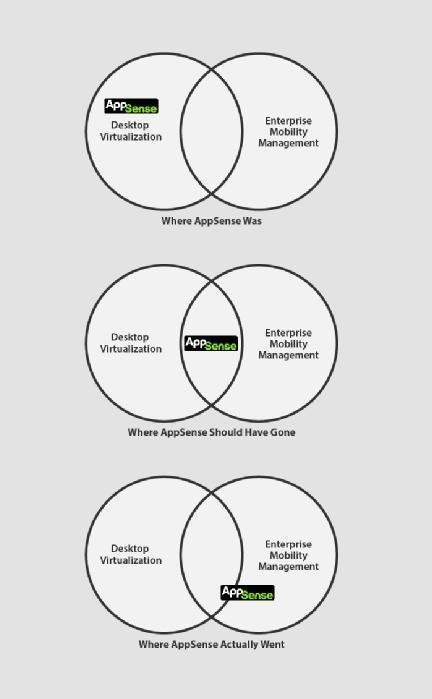 AppSense Environment Manager, the company's flagship UEM product, became a bug-filled mess, which drove away customers. At the same time, the EMM market exploded into dozens of vendors with different offerings to fit customers' specific problems, and that left AppSense as just a face in the crowd.
AppSense tried to balance EMM and UEM for a few years, but in 2013 went through a pretty major upheaval. Originally, rumors surfaced that AppSense was cutting out the desktop side altogether to focus solely on EMM. But after the dust settled, president and CEO Scott Arnold led the charge for AppSense to return to its roots. By spring 2014, AppSense vice president of product management Jon Rolls told me the company had significantly cut down on issues customers were having.
With its stability problems in the rearview mirror, AppSense turned to growing its DesktopNow product -- the suite that includes AppSense Environment Manager and Application Manager. Since then, AppSense has steadily been adding features to DesktopNow, looking for a buyer, but preparing to stay the course. That's where LANDesk comes in.
The AppSense-LANDesk deal
LANDesk is a company most IT pros have heard of, because it's been around for decades. Since the company formed in 1985, LANDesk mostly focused on systems management.
We just might get to see what AppSense EMM looks like after all.
What's so great about this acquisition is that LANDesk doesn't do what AppSense does, so there probably won't be any major layoffs due to redundancies. LANDesk didn't buy AppSense as part of a fire sale just to get access to its intellectual property or customers. LANDesk is acquiring AppSense to add the company to its list of products.
The irony of the situation is, in addition to systems management, LANDesk has an EMM product, so it was one of those companies competing against AppSense during its failed venture into EMM. The LANDesk EMM platform offers mobile device management, mobile application management, app wrapping and secure mobile email -- each of which AppSense wanted to add to its product portfolio. We just might get to see what AppSense EMM looks like after all.
With the additions of AppSense Environment Manager, Application Manager and DesktopNow, LANDesk has the makings of a platform IT pros can use to effectively manage nearly every aspect of their jobs. The LANDesk Management Suite already includes mobile, server and desktop management and security. Now it can also manage the user environment, applications and data.
This move is really exciting, because it keeps AppSense's technology and people doing the things they do best, all under the umbrella of a company that places more emphasis on products than looking sexy. It genuinely feels like two companies that needed each other got hitched at the right time.
Dig Deeper on Virtual desktop management