News
Stay informed about the latest enterprise technology news and product updates.
What's new in VMware View 4.5 and ThinApp 4.6, page 3
VMware expert Mike Laverick writes that View 4.5 is a major step up from all previous releases. But can it close the gap between VMware and Citrix?
(Page 3 of 3)
Linked clones
Before View 4.5, the only way to add several desktops to Active Directory was with QuickPrep. But now VMware supports Microsoft Sysprep. Sysprep is the only utility supported by Microsoft, so certain applications may have problems if QuickPrep is used. Such applications require a truly unique security ID or SID, such as antivirus. But once a pool is configured with either QuickPrep or Sysprep, it can't be changed. Also, if you carry out a recompose task against the linked clone-enabled desktop, a brand-new SID will be generated for each desktop affected.
View Composer will remain a popular method of deploying virtual desktops, especially for shops that decide that local storage is a viable option. It's possible that the new vStorage Application Programming Interfaces for Array Integration (VAAI) will be enhanced so that View can speak directly to storage arrays from vendors such as EMC, NetApp and Dell and kick-off a cloning process. As it stands, I'm ambivalent on View Composer and linked clones. When it works, it's brilliant, but more often than not, I have to use command-line utilities such as sviconfig and View PowerCLI to clean up after it. VMware needs to make the View Composer service rock solid and to do more work on the linked -clones feature so that it is easier understand.
Final thoughts on View 4.5
In addition to the improvements mentioned above, VMware also made many small enhancements, like the new Apple Mac View Client. Furthermore, unlike previous versions, View 4.5 supports PowerShell, which enables you to carry out the major functions of the product, like creating and entitling desktop pools from a rich command-line interface.
Figure 1: Screenshot of pools in VMware (Click to enlarge.)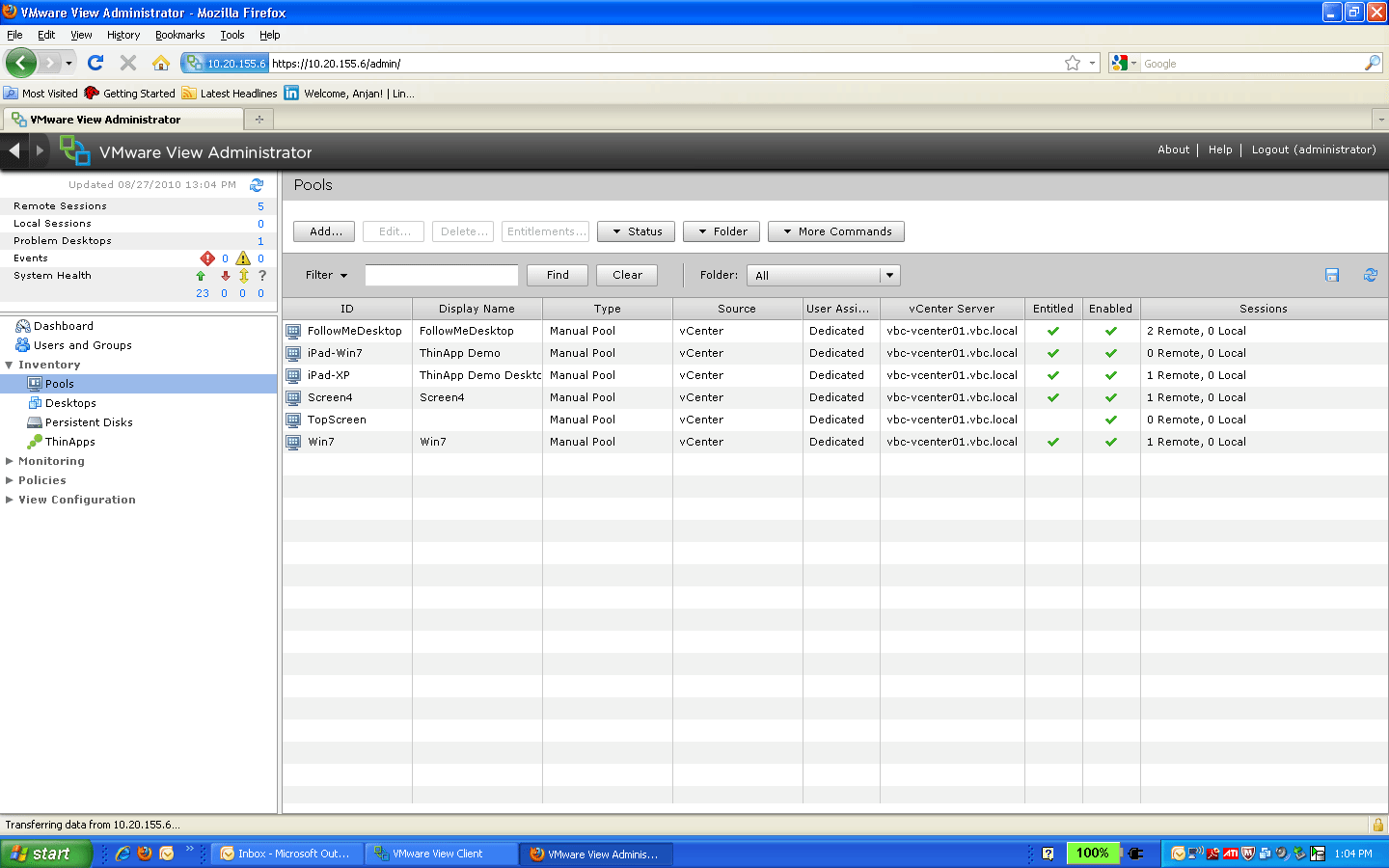 However, it appears that this interface was developed entirely separately from the core PowerCLI team within VMware and has a handful of anomalies. For example, it doesn't appear to plug directly into the core vSphere software developer's kit. This means that certain standard pipelining practices don't work.
Overall, View 4.5 is a major step up from all previous releases of the product, but does it close the gap between VMware and Citrix?
Recently, Gartner gave Citrix XenDesktop the thumbs-up because it had finally managed to meet all of its essential criteria. Yet even with all the enhancements, I think View 4.5 falls short of feature parity with XenDesktop.
Regardless, I do think View 4.5 has a future. It's important to remember that customers rarely decide to buy one technology over another purely because of feature equivalence. Nowhere is this truer than with virtual desktops. My customers who have had long-term relationships with Citrix through its numerous product renames naturally feel attracted to a solution that serves server and virtual desktop needs in a single window. On the other hand, my customers who are at pure VMware shops gravitate to VMware View and praise the simplicity and ease of its setup and rollout.
I think VMware needs to invest research and development into a server-based/terminal service solution rather than narrowly focusing on virtual desktops and virtual applications. Only then will it be able it to make a claim to be delivering applications from any device at anytime and anywhere.
« Previous page | 1 | 2 | 3
ABOUT THE AUTHOR:
Mike Laverick is a professional instructor with 15 years of experience in technologies such as Novell, Windows and Citrix. He has also been involved with the VMware community since 2003. Laverick is a VMware forum moderator and member of the London VMware User Group Steering Committee. In addition to teaching, Laverick is the owner and author of the virtualization website and blog RTFM Education, where he publishes free guides and utilities aimed at VMware ESX/VirtualCenter users. In 2009, Laverick received the VMware vExpert award and helped found the Irish and Scottish user groups. Laverick has had books published on VMware Virtual Infrastructure 3, VMware vSphere4 and VMware Site Recovery Manager.
Dig Deeper on Virtual desktop software and vendors