News
Stay informed about the latest enterprise technology news and product updates.
RDCMan released from Microsoft's internal goodie bag
Microsoft's RDC Manager allows Remote Desktop Connection Client to handle multiple RDP connections. But IT expert Mike Nelson asks, "How good is it?"
Microsoft recently made another one of its in-house-only admin tools available for download: Remote Desktop Connection Manager (RDCMan) was released publicly as Version 2.2. This tool was created by a developer on the Live Experiences Team to overcome the relative inflexibility of the native Remote Desktop Connection Client to handle multiple Remote Desktop Protocol (RDP) connections. As usual for this type of tool, Microsoft's site says that RDCMan was developed internally and that it isn't supported.
I downloaded the program, installed it and launched it on my Windows 7 32-bit test machine. (It also installed and ran fine on a Windows 7 64-bit desktop.) The tool requires RDC Client Version 6 or better, and you can download RDC Manager from Microsoft's website.
Figure 1: The connection properties screen. (Click to enlarge.)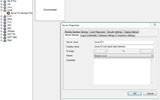 After launching the program, I tried to find a way to import my 50 or so RDP connections to avoid re-entering them. My lab desktop had an older tool -- the original freeware version of Remote Desktop from VisionApp -- to keep the connections in a proprietary coded file. I had serious doubts that RDC Manager could import any of those connections, but several of them were tucked away in the registry by the native RDP.
More tools and technologies:
The only way to import any connections is via a text file. You can also input each one individually, although it's possible to add servers that have incremental numbers. (Who has that in real life?) I also saw in the help file that Microsoft's developers plan to omit the ability to import from a text file from a future edition, which means you'll need to modify the XML connection files directly. This seems like a step backward rather than forward.
Once I added a few server connections, I started to look deeper into the structure. Connections can be organized by groups, with top-level hierarchies, and you can even load multiple connection definition files, called .rdg files.
RDCMan has a two-pane interface, and the servers are presented on the second pane as thumbnails. The options for each connection are pretty much what you can define within a native RDP session, with a few exceptions. I often use the ability to add descriptions for each connection, since server names don't always indicate their purpose.
Although the interface is simple and clean, the drawback is that the descriptions are placed in line with the server name, making it difficult to see and manage the two panes at the same time. There is a Comments field, but I cannot find anywhere on the screen that it is shown when highlighting the server. Putting that description on the status bar or even as a hovering tool tip would be much better.
Figure 2: The default group properties screen. (Click to enlarge.)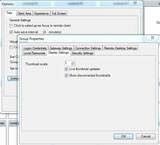 I also had an issue with the thumbnail views of the servers. Whenever I hovered over a thumbnail, the screen took the keyboard focus and delivered it to the connection. This is a problem especially if you accidently input a keystroke that could cause your server to do something undesirable, like shut down. The Live Thumbnail Updates option is nice when performing several tasks on several machines at once.
Overall, RDC Manager is a good tool, but it is only useful for RDP connections, and its interface still has some big drawbacks. If you are strictly a Windows admin and want a remote desktop management tool to do nothing but RDP, then this is for you. I highly recommend using a more agnostic and flexible connection manager, such as Remote Desktop Manager Standard Edition from Devolutions Software or the Terminals remote desktop client, which is available on CodePlex. Both of these products provide for security, network tools, shared-connection databases, a large selection of connection types (such as RDP, SSH, VNC and FTP) and postconnect command execution, and best of all, they are free.
ABOUT THE AUTHOR
Mike Nelson has been in IT for more than 20 years, with exposure to a very diverse field of technologies and solutions. He has devoted over half a decade to virtualization and server-based computing. Nelson is currently a senior analyst at a Fortune 100 company in the U.S. Midwest.
Dig Deeper on Virtual desktop software and vendors