Download Getting started with VDI + Future of desktop computing e-guides
Fill in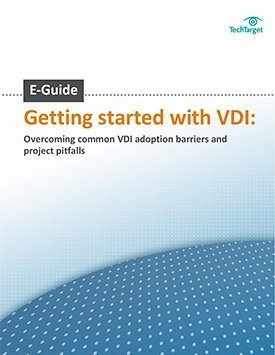 Download Getting started with VDI + Future of desktop computing
Getting started with your VDI initiatives can be struggle, as there are many key steps to take and common mistakes to avoid. And even after you've completed your deployments, effectively utilizing this technology to deliver desktops, applications and data as a service is no easy task.
Fortunately, the same experts who spoke at our VDI seminars compiled these exclusive guides to provide essential tips and tricks for jumpstarting your VDI initiatives, minimizing top pain points, and ensuring success post-deployment, as well as eye-opening insights on the future of desktop virtualization.
Take advantage of these exclusive downloads to optimize your virtual desktop projects and get the most from your investments.
Dig Deeper on Virtual desktop tools and technology