Windows Intune shows promise at first glance
Windows Intune -- Microsoft's cloud-based antivirus service -- may be a bit rough around the edges in beta, but its future looks bright.
Windows Intune is Microsoft's cloud-based antivirus software, and like other cloud antivirus products on the market, it's a bit rough around the edges. The product is a combination of Windows Defender anti-malware protection and the Windows System Center and Forefront management services, and it covers the following functions:
Central management of patches and Windows updates, including Windows 7 upgrades
Malware protection
Remote assistance
Inventory of software and hardware
Currently in beta, Intune should be available generally next year at the target price of $11 per user per month.
There are two pieces that make up Intune -- a client piece that works with all professional versions of Windows since XP SP2, and a Web-based management console that requires a Windows Live account, Internet Explorer and Silverlight. There is a separate agent for 64-bit versions of Windows.
Installing Intune on Windows XP, Windows Vista and Windows 7 machines is a painless process. However, if you have another antivirus product installed on your desktops, you need to remove it to avoid any conflicts.
Unlike a traditional software install, it takes Intune some time to communicate with the cloud-based service. Therefore, it's best to walk away from your desktop for a few hours while this communication takes place. Once it's installed, bring up the client software, as shown in Figure 1, to make sure that real-time protection is turned on and that malware definitions are current. You can also kick off a scan of your desktop from here (or by using the Web console).
Figure 1: The desktop agent for Intune allows you to perform antivirus scans. (Click to enlarge.)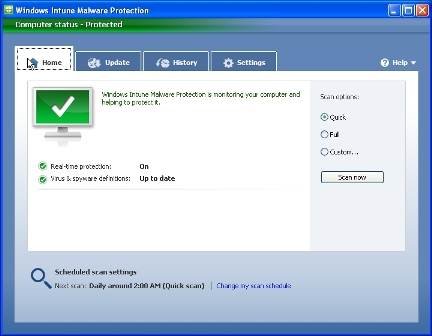 After installation, you can set up policies -- defining groups of PCs that you want to manage, what updates you want to push out to these desktops and other tasks -- with the browser connection to the cloud service. The menu and control layouts, shown in Figure 2, are very intuitive, with a main navigation bar on the left as well as descriptive screens that walk you through the steps.
Figure 2: Intune's main menu for its Web console lets you manage all of your desktops, set policies, and run reports. (Click to enlarge.)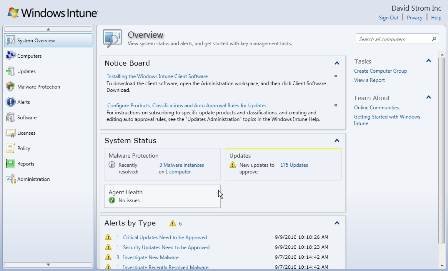 You can get a lot of information for each protected PC, including which Microsoft patches need to be installed, a detailed hardware and software inventory, the operating system version, the amount of free space on your hard drives, and security alerts.
It's important to note that if you have been lax about your Microsoft updates, you will pay for it when you install Intune. The tune-up can take days, especially if you have hundreds -- or in my case, more than a thousand -- patches to install.
Like the other cloud-based antivirus products I tested, Intune classified my Metasploit installation as malware -- it actually had three alerts on the test system.
Intune lets you schedule scans automatically from the Web console by first setting up a policy and including the frequency of the scan. You can run daily or weekly full PC scans at a particular time, along with other options, as shown in Figure 3.
Figure 3: Intune allows you to set particular scanning schedules and enable automatic protection of your desktops. (Click to enlarge.)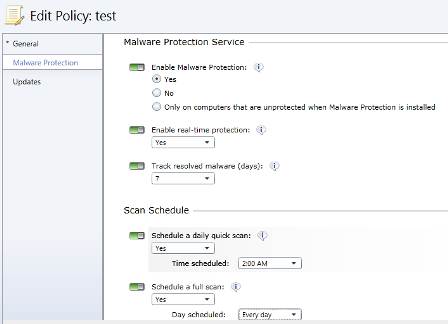 Overall, Windows Intune shows a lot of promise, and it's certainly one cloud antivirus service worth watching as it moves into a finished product. And if Microsoft keeps to the intended price point, it will be a good value as well.
About the author:
David Strom is a freelance writer and professional speaker based in St. Louis. former editor in chief of TomsHardware.com, Network Computing magazine and DigitalLanding.com. Read more from Strom at Strominator.com.
Dig Deeper on Virtual desktop infrastructure and architecture