Evaluate
Weigh the pros and cons of technologies, products and projects you are considering.
User Installed Applications -- what's the use case?
There are a number of desktop virtualization products that include User Installed Application solutions, but most IT pros don't want users installing apps. So, what's the use case?
I co-hosted a presentation at BriForum 2011 in Chicago last week covering the vendors that offer User Installed Applications solutions, and by the end of the session, I was left wondering about the possible use cases for this software.
Typical admins don't like the idea of letting users install apps themselves because User Installed Apps (UIA) can potentially break everything. But today's end users install their own apps regardless, so IT needs UIA solutions.
UIA -- what's your use case?
In the BriForum session, we described a UIA solution as one that allows a regular user to physically install an .msi or .exe application onto their computer. That application persists between sessions and devices (physical or virtual) and works with persistent or non-persistent VDI pools. We also made it clear that packaged, streamed or otherwise virtualized applications, including self-service applications, from an IT-managed source don't count since they're managed in some way before the user has access to them.
None of the solutions we covered fully support non-persistent desktops. Lots of features can work, but kernel drivers tend to make it difficult. Still, we ended up with the following chart covering the key features of each solution: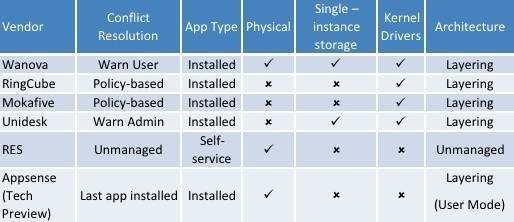 At the end of the session, we asked people what their use cases are for UIAs. Of the 40 or so people in the room, only a handful of people spoke up, and only one of them actually had a use case to share.
That lone person works for a managed service provider that passes UIA functionality on to their customers in an effort to use standardized images. Assuming the images are being implemented legally (that is, not shared between customers), I can see that being a very good use case for UIAs. But what about the other people?
I asked MokaFive's Founder and CTO John Whaley about it later in the day, and he said that most customers using the MokaFive Suite for client-side virtualization use the "Retained Installed Applications" feature, which is the fancy name for User Installed Apps. If that's true, then there should be plenty of use cases out there, but people aren't very vocal about it.
Still, MokaFive, Wanova, RingCube and UniDesk all have UIA solutions and AppSense's UIA software is in tech preview. RES has a feature called "User Installed Apps" based on its existing privilege elevation technology, but it's not the same thing.
I had to leave the room immediately after the session was over, so I didn't get a chance to talk to attendees who didn't speak up during the presentation. Only a few people in the room represented vendors, so I have to assume most attendees were curious about what UIAs can do for them. I'd like to know why. What are the reasons you are using/want to use User Installed Apps? Is it to enable shared-image VDI, as it was for the lone use case mentioned in the session?
We also asked the audience if they give users admin rights. A majority of the people raised their hands! We followed up by asking, of those with their hands up, who gives admin rights to all their users instead of just some. Most of the hands stayed up! Is the need for UIAs unrelated to VDI altogether and just a method of removing users' admin rights?
Surely, with all the mature products with UIA functions available, there is some broad need for a comprehensive UIA solution. Most work with kernel-mode drivers, support rollback and have a policy engine to facilitate conflict resolution. Wanova even has its own built-in storage optimization (the others rely on the storage vendor's solutions).
Ultimately, if you need User Installed Apps, you should be able to find a solution out there that meets your needs. If these don't, though, what's missing?
ABOUT THE AUTHOR:
Gabe Knuth is an independent industry analyst and blogger, known throughout the world as "the other guy" at BrianMadden.com. He has been in the application delivery space for over 12 years and has seen the industry evolve from the one-trick pony of terminal services to the application and desktop virtualization of today. Gabe's focus tends to lean more toward practical, real-world technology in the industry, essentially boiling off the hype and reducing solutions to their usefulness in today's corporate environments.
Dig Deeper on Application virtualization and streaming