JRB - Fotolia
Top drivers behind desktop virtualization adoption
We surveyed about 500 IT and business professionals on why they use desktop virtualization, and more than half of them listed the same four reasons. Find out those results and more with this infographic.
IT admins usually list several reasons why they use desktop and application virtualization, but one thing they can almost all agree on is that these technologies simplify management.
In fact, 71% of respondents in TechTarget's 2015 Desktop Virtualization Survey said one of the main reasons they plan to expand their desktop virtualization environment is to make managing end-user computing easier. There were several other motivators that the 512 IT and business professionals polled said were driving them to use virtualization technologies, demonstrating that VDI, app virtualization and other remote access strategies can yield real benefits.
The second most popular reason IT pros want to extend desktop virtualization is to enable users to work from anywhere, with 55% selecting that option. In that same vein, 39% of respondents each listed bring your own device and enabling users to work with tablets and phones as other top motivators. With more companies embracing mobility, the big desktop virtualization vendors are looking capitalize by providing application and workspace delivery and management tools. Citrix released a cloud-based management platform called Workspace Cloud, which makes it easier for admins to deploy and manage virtual desktops, applications and data on any devices. VMware has a similar product in the pipeline, Project Enzo, and also added an app layering product, App Volumes, to its portfolio.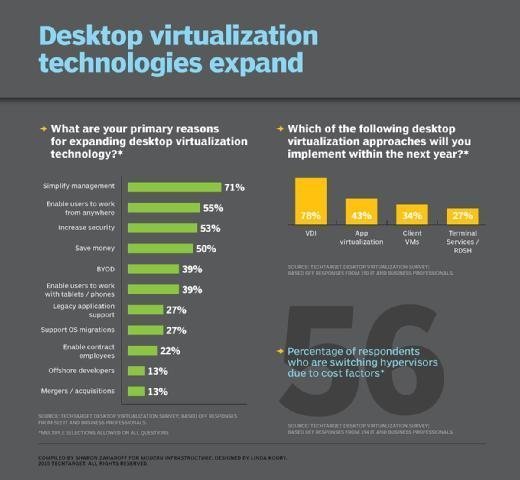 Other popular reasons for using desktop virtualization were to increase security (53%) and to save money (50%). Twenty-seven percent selected Windows legacy application support, and the same amount said they use desktop virtualization to support OS migrations. Desktop virtualization can ease the pain of switching OSes because it allows users to access older line-of-business applications they still need. Legacy apps and OS migrations should remain drivers of desktop virtualization adoption as organizations consider upgrading to Windows 10.
The survey also asked respondents which technologies they plan to implement within the next year. More than three quarters of the IT pros said they plan to add or expand VDI implementations in the near future, which shows its growth as a mainstream technology. Vendors have simplified VDI management, and IT shops now have a better understanding of specific use cases -- for example, to boost security in government agencies. Meanwhile, 43% of respondents said they plan to add app virtualization, 34% want to implement client virtual machines and 27% want to use Remote Desktop Session Hosts.
Although adopting desktop virtualization can save money over buying and managing PCs, organizations are always reassessing how to become more efficient financially. For that reason, more than half of 192 respondents (56%) said they plan to switch to a more cost-effective hypervisor.
The ability to reduce complexity and deliver apps to mobile users are motivating desktop virtualization adoption in all types of businesses, and advancements in management and storage make VDI a more viable option than ever before.
Dig Deeper on Virtual desktop management