Timeline: The recent history of Citrix
Citrix seems to have found solid footing after a turbulent few years in which the company dealt with executive turnover, activist investors and underperforming financial results.
Citrix has had its fair share of ups and downs over the past three years, and uncertainty about its future has weighed on customers and industry observers.
Reports of Citrix putting itself up for sale have come and gone -- even as the company turned itself around financially -- and IT shops and partners were left wondering how a deal might affect them. After all, when acquisitions occur, the two companies may have overlap between some of their products, which can lead to significant changes in future versions. Or the acquiring company may price or bundle existing products differently.
Amid Citrix's financial struggles and high-level executive turnover in 2014, reports indicated the company was looking for a bailout. Since then, Citrix grew its profits from $251.7 million in 2014 to $536 million in 2016. Additionally, the company closed key acquisitions and partnerships that continue to bear fruit, which means there is more potential for growth in the future.
Citrix in January acquired Unidesk, for example, and in April renamed that technology as Citrix App Layering. With Unidesk's more popular technology included in XenDesktop, XenApp and Citrix Workspace Suite, IT administrators won't have to use products from separate vendors -- adding value for existing users and also appealing to new customers.
And last year, Citrix expanded its partnership with Microsoft, integrating XenApp and XenDesktop with Azure and Skype for Business. VDI and unified communications products such as Skype have not traditionally integrated well; Citrix and Microsoft's work aimed to address these performance and user experience problems, potentially increasing the audience for both products.
Thanks to Citrix's growth over the past two years, a sale today would likely not be to bail out the company, but to create a strategic opportunity for a buyer. Let's examine the history of Citrix to see how it got to this point: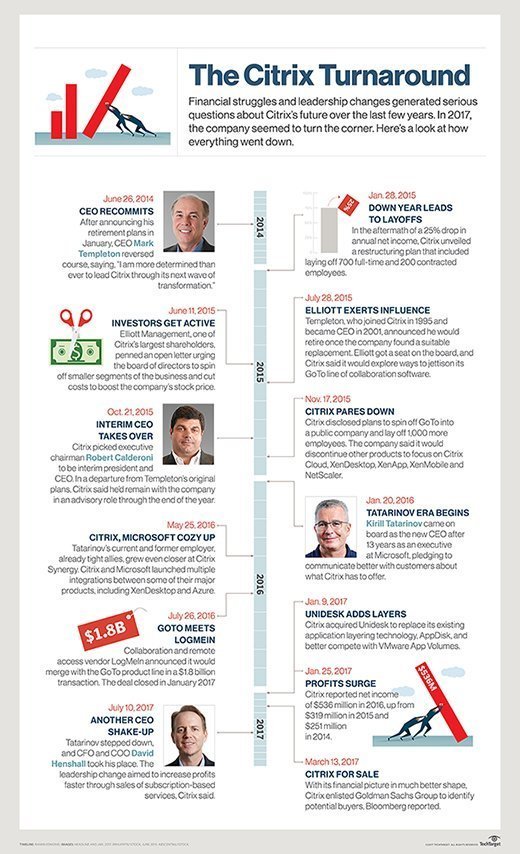 Dig Deeper on Citrix virtual desktops