masterzphotofo - Fotolia
Evaluate
Weigh the pros and cons of technologies, products and projects you are considering.
Monitor VDI with these top tools
VDI monitoring is critical to understand why problems occur. IT can use tools in XenApp, XenDesktop and Horizon or try third-party options from the likes of Quest Foglight.
When it comes to fixing anything, the first step is to understand the source of the problem.
In VDI deployments, that is exactly what monitoring tools are designed to do. They give IT professionals insight into the inner workings of their deployments, including information on login times, application response times and historical trends. IT can harness all of this information to diagnose and resolve problems.
It's important to know what VDI monitoring tools are built into desktop and app virtualization software, such as Citrix XenApp, XenDesktop and VMware Horizon, as well as third-party options from the likes of Liquidware and eG Innovations Pte Ltd.
Citrix's built-in VDI monitoring tools
Citrix built four different tools to monitor VDI in XenApp and XenDesktop, each of which serves a different purpose.
Citrix Director is the primary tool to monitor VDI in both XenApp and XenDesktop. It is web-based and provides real-time information on nine primary areas -- machines, user sessions, infrastructure, load evaluation, historical trends, logon performance, session usage, connection failures and machine failures.
Citrix Session Recording enables IT to record a user's screen to track what he is doing. With this tool, IT pros can identify potential malfeasance, such as violating certain company policies. They can also resolve problems by seeing exactly what the user is seeing.
In addition, Session Recording enables IT to create policies that automatically activate a screen recording based on certain user behaviors, such as opening a particular app.
Citrix Configuration Logging tracks each individual configuration change administrators make in a XenApp or XenDesktop deployment, as well as which admin makes each change.
Citrix Monitor Service OData API is a web-based application program interface that enables IT to see connection failure data, as well as a list of which machines have already failed. It also includes details on session usage, logon duration times and load balancing.
VMware vRealize Operations for Horizon
VMware's built-in tool to monitor VDI, vRealize Operations for Horizon, is a management console that enables IT to examine metrics spanning the entire infrastructure, all the way down to the hypervisor. This enables IT pros to identify problems that occur outside of the virtual desktop itself.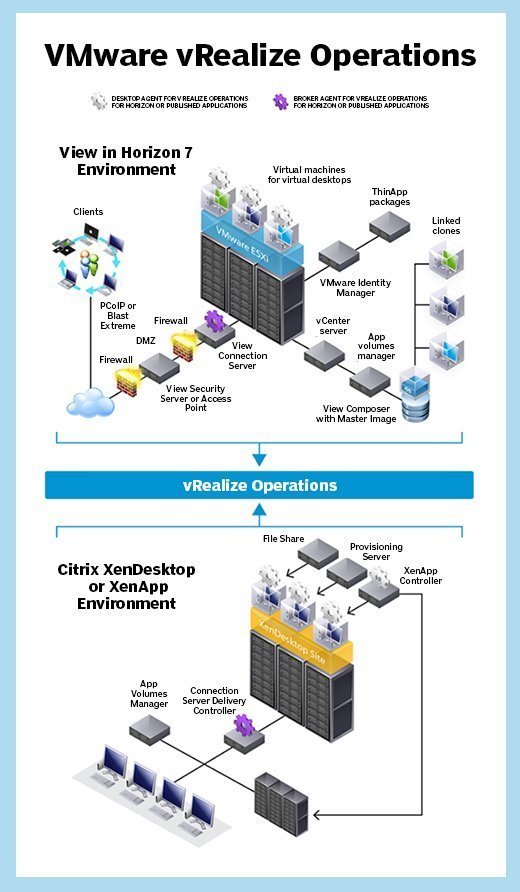 IT can use vRealize Operations for Horizon to uncover each desktop's latency levels, bandwidth consumption, login duration and packet loss. IT pros can also pick and choose which specific metrics they see in the management console so they can focus on what's relevant to them. They can also perform a user search in vRealize Operations for Horizon so they can quickly identify which parts of the infrastructure support a specific user's desktop to pinpoint where a problem originates.
Monitor VDI with third-party tools
ControlUp Technologies Ltd. Insights has a focus on historical data that enables IT to see what the VDI deployment's metrics looked like when it was healthy versus when it is unhealthy. Historical data is also valuable for spotting long-term trends. In addition, ControlUp Insights delivers several reports on areas such as protocol latency and Windows errors that help quantify what users are experiencing.
eG Innovations VDI Performance Assessment automatically runs diagnostics of the VDI deployment and offers actionable answers for IT to consider to address any performance problems.
Historical data is also valuable for spotting long-term trends.
Ivanti offers Performance Manager, which enables IT to adjust the amount of CPU each user gets, schedule out when CPU resources go where, and create context-based controls on resources such as CPU and memory. Xtraction is IT's hub for all of its VDI monitoring data, including information on outages and vulnerabilities. Insight covers users' endpoints, offering up information on profile size and application memory usage. All three tools are available as part of User Workspace Manager.
Lakeside Software SysTrack Workspace Analytics enables IT to identify problems through natural language searches. An IT pro can search for the problem he wants to identify rather than scanning through a dependency tree that shows how a specific desktop runs or navigating a complicated menu.
SysTrack Workspace Analytics also features a risk visualization tool IT can use to identify vulnerabilities in the deployment and a threat detection engine that can automatically spot risky activity and limit threats.
Liquidware Stratusphere UX provides a large-scale view of a VDI deployment, enabling IT pros to see where problems are occurring. They can then home in on more specific areas at the machine, user and application levels.
Login VSI helps IT determine the size of the workload each user requires to experience an acceptable level of performance. It also includes a continuous monitoring tool called Login PI that IT can use to simulate what actual users experience when they log in and use their apps.
Quest Foglight for Virtualization provides monitoring for several levels of a VDI deployment, from user sessions, services and desktops to Active Directory, NetScaler and virtual storage tiers.
Dig Deeper on Virtual desktop tools and technology