Evaluate
Weigh the pros and cons of technologies, products and projects you are considering.
How to calculate VDI costs and keep them to a minimum
When the true cost of VDI is hazy, it's a good idea to make a comprehensive calculation. Determine how to factor in costs related to hardware, infrastructure, licensing and more.
For as long as VDI has been around, one of its major deterrents has been price.
Costs for early VDI implementations could be prohibitive. Storage requirements drove up prices, and vague licensing terms increased the potential for over-purchasing.
As with most technologies, new enhancements have driven down VDI costs. Thin provisioning reduces wasted storage by allocating space only as needed, and linked clones enable VMs to share virtual disks. In addition, VDI can now use virtual storage area networks to share local storage, helping to better utilize existing resources. Taken together, all these improvements have significantly lowered storage Capex.
VDI requires the upfront planning necessary to deliver a flexible, affordable and high-performing implementation. But first IT teams need to understand VDI's true costs, which must take into account hardware, software and other factors. They can then weigh those costs against other options. If they still think VDI is the right decision, they should find ways to keep both Capex and Opex at a minimum.
VDI hardware costs
When calculating hardware costs, IT must account for both the initial capital outlay and the ongoing costs of keeping the hardware operational. VDI requires the compute, storage and network resources necessary to ensure optimal performance and ongoing availability at all times, especially during peak hours.
Some IT teams might be able to use existing equipment for their VDI environments, but many will need to purchase servers with processor and memory resources, high-performing storage arrays, and components such as network switches, storage controllers and power supplies. They also need racks to house all this equipment.
In addition, hardware estimates should consider the redundancy needed to support failover and fault tolerance, as well as the necessary backup systems to protect the virtual machine images and other data. This might mean updating existing backup systems or implementing new ones. In addition, hardware calculations should reflect the estimated costs of replacing and upgrading equipment over a fixed number of years, as well as future scalability requirements.
IT should also take into account the client devices that workers will use to connect to their virtual desktops. In some cases, they might be able to use their personal PCs, while others might continue to use corporate PCs, in which case IT might be able to convert them to thin clients, which incur minimal costs. However, if an organization plans to deploy new devices -- whether desktops, laptops, thin clients, zero clients or other devices -- it must factor those costs into the calculations.
VDI licensing costs
The total cost of software can be one of the most expensive parts of implementing VDI. At the top of the list is the VDI software itself. Each vendor follows its own pricing structure and offers an assortment of options that affect rates. VDI licenses might be available on a per-user or per-device basis, and they might be offered as annual subscriptions or perpetual licenses.
IT must also contend with licensing the guest operating system. Some organizations might be able to use Linux, but most will require Windows, and Windows licensing in virtual environments can be confusing and expensive.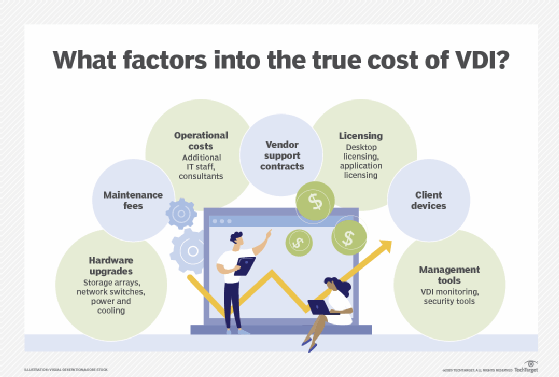 Licensing will depend on whether the virtual desktops are based on Windows Server -- delivered via Remote Desktop Services (RDS) -- or based on a standard Windows desktop edition (Enterprise, Pro or Home). For the latter, the selected edition affects pricing as well.
Software estimates must also consider the applications running on the virtual desktops, which can include productivity apps, business apps, antivirus software or anything else workers need to do their jobs. As with VDI software, desktop applications impose their own licensing rules, often distinguishing between physical and virtual environments. In addition, some desktop applications are not suited to virtual environments, resulting in more expense to accommodate them.
IT should also consider any licensing costs for software that supports hardware equipment, such as storage arrays. In addition, they must take into account the software needed to manage the VDI environment, which can include security tools, monitoring tools and client management tools. Although IT might be able to use some of its existing products, many are not designed for VDI, forcing organizations to purchase new software.
Other VDI costs
On-premises VDI requires a place to put the additional infrastructure, which often means taking up valuable rack space in the data center. VDI includes servers, storage systems, network components, power supplies and other equipment. IT might also have to upgrade the data center's power and cooling infrastructure to support the additional load.
Organizations should also factor IT resources into VDI costs. Planning, deploying and maintaining VDI is complex and often difficult, requiring more effort than was initially expected or budgeted for. IT must ensure continuous performance and availability; manage hardware, software and licensing; and troubleshoot issues as they arise. Many of these operations are more complicated for VDI. In some cases, organizations must bring on consultants or hire third-party services to help deploy and maintain their systems.
Other expenses can include annual maintenance fees, vendor support contracts and power requirements for client devices. IT should also consider any costs associated with supporting systems that don't fit neatly into the VDI model. For example, a healthcare organization might need to maintain physical workstations to support special equipment such as medical devices.
DaaS reduces upfront costs
IT teams that want to offset upfront costs might consider desktop as a service (DaaS). In this model, a cloud provider hosts and manages the infrastructure needed to support desktop virtualization, allowing IT to focus exclusively on the virtual desktop delivery. In exchange, the company pays a monthly subscription fee, which is based on the number of desktops and various delivery options.
On the surface, DaaS seems like an ideal arrangement. However, subscription fees can add up quickly and offset the initial savings of outsourcing the infrastructure. IT also has little control over the infrastructure and is at the mercy of the provider to ensure that back-end systems are properly maintained, patched and secured and that virtual desktops always have the resources they need when they need them.
DaaS vendors host their infrastructures on public cloud platforms, which means resources are shared with other customers. Not only can this affect performance, but it can also raise concerns about security and compliance.
Even so, DaaS can be a good option for organizations looking for an easier way to scale desktops up and down as needed. For example, a company that hires seasonal workers might need more desktops on a temporary basis, in which case the company can turn to DaaS to acquire the resources it needs during that time. DaaS can even help with disaster recovery by allowing IT to offload backup resources to the cloud.
DaaS also makes it possible to deliver virtual desktops to any device regardless of location, as long as the user can establish network connectivity, which is an appealing incentive for many organizations.
The price of VDI vs. traditional infrastructure
Before deploying VDI, IT should assess whether VDI (or DaaS) is really the best choice for the organization. VDI might help simplify desktop management and secure corporate resources, but it seldom delivers the promised cost benefits.
Hardware, software, IT resources and other costs add up quickly with VDI. Expenses can be difficult to predict and hard to control, especially when trying to accommodate future scaling requirements. Many teams overprovision their VDI environments in anticipation of future needs. They might also overprovision resources just to avoid potential performance issues, sometimes only to accommodate a handful of users.
Overprovisioning incurs unnecessary hardware costs, while resources sit idle much of the time. On the other hand, underprovisioned resources can degrade the user experience and reduce productivity, resulting in a different type of loss. With VDI, attaining that right resource balance can be a tricky process -- much more difficult than with individual PCs.
Even issues around VDI management and security are not as clear-cut as first assumed. IT might find it easier to manage the virtual desktops themselves, as opposed to physical desktops, but they could end up spending more time managing infrastructure. In addition, troubleshooting issues is more difficult and time-consuming in a VDI environment. To address a single problem, an administrator might need to investigate virtual desktops, hypervisors, applications and physical components.
VDI security presents its own set of challenges. On the one hand, VDI eliminates the need to store sensitive data on endpoint systems. However, a virtual desktop also provides a direct conduit into data center resources. If users are careless with their devices -- such as leaving them unlocked, surfing risky websites or opening email attachments from unknown senders -- attackers could gain access to their systems and eventually infiltrate the corporate network, causing far more damage than if only one laptop were compromised.
When comparing VDI to traditional PCs, IT teams should conduct a careful cost analysis of what it would take to deploy and maintain both types of environments, taking various considerations into account, such as the number and type of users, their desktop access needs, the type of workloads that need support, and whether the desktop applications will run in a virtual environment.
Hyperconverged infrastructure helps
If an IT team decides that VDI is the way to go, it might consider implementing the platform on hyperconverged infrastructure (HCI), which can help lower VDI costs over the long term. HCI products not only reduce deployment expenses -- because IT can set them up in a matter of hours or days -- but they also reduce ongoing operational costs.
HCI is easier to maintain than traditional infrastructure because it combines compute, storage and networking into a single integrated appliance. In fact, when HCI appliances first emerged, they were primarily marketed as VDI products.
An IT team can usually deploy and maintain HCI without needing to bring on outside consultants or additional staff. In addition, HCI is easier to scale than with traditional infrastructure. When an organization needs more resources, IT simply adds new nodes, which are pre-configured and pre-optimized for the specific HCI environment and its workloads.
Today's disaggregated HCI systems also help to reduce the risk of overprovisioning by allowing IT to scale compute and storage resources independently. HCI can also increase virtual desktop performance because data doesn't have to travel across networks or data centers like it often does with traditional storage.
Other ways to lower VDI costs
The costs of VDI can add up quickly, so it's important for organizations to be aware of other cost-saving initiatives. Here are some ways to curb VDI costs:
Use thin clients. In some cases, IT can save money by converting older desktops to thin clients rather than buying new devices. If that's not an option, IT might consider zero clients or thin clients instead of purchasing regular desktops or laptops. Although there's still Capex involved, these lightweight devices can be more cost-effective and secure than regular PCs.
Consider different types of virtualization. IT should consider the type of virtual desktops it will deploy. For example, organizations might benefit from non-persistent desktops or server-based RDS desktops, depending on their workers and use cases. An organization can also deploy different desktop types for different situations. IT might also consider using application virtualization rather than desktop virtualization to help lower costs. Another option is to deploy VDI on a public cloud platform that offers infrastructure as a service.
Opt for Linux. IT might also consider ditching Windows as the guest OS in favor of Linux. This is a lot easier today because open source productivity software such as LibreOffice has improved dramatically. In addition, many developers are writing modern core business applications as web-based applications, which users can access through browsers on any OS. On the other hand, a switch to Linux could incur the wrath of users and management alike.
Dig Deeper on Virtual desktop infrastructure and architecture