Get started
Bring yourself up to speed with our introductory content.
Virtual desktop security guide
How to put your VDI environment under lock and key
Introduction
With the variety of endpoints in corporate environments today, security is more important than ever. Users are also becoming increasingly independent, making it difficult for IT to manage passwords, application settings and network access.
Virtual desktop infrastructure can make your desktops either more secure or less so. Storing data on VDI servers in the data center is more secure than storing it locally on the user's endpoint, and administrators have greater control over desktop and app distribution. At the same time, allowing users to access virtual desktops remotely puts your network at risk.
To deal with those extra vulnerabilities, you need solid virtual desktop security measures. Learn how to protect the network, implement single sign-on, secure backup files and more in this guide.
1

Lock it up

-
How VDI can improve desktop security
Implementing VDI can be a godsend for desktop security because back-end servers provide an extra layer between the user's desktop and potential hackers.
2

For better or for worse?

-
VDI security challenges
Hold your horses: VDI isn't always a golden ticket to desktop security. Virtualization can also present a new layer of vulnerability.
News
Desktop virtualization takes users -- who are often unpredictable -- out of the field and into your data center. So, it's best not to allow them to install their own applications or have admin rights. Just because it's "easy" to refresh a master image doesn't mean you want to do that all the time. Continue Reading
Tip
You might think the secure nature of virtual desktops means you don't need antivirus software, but that's false. You can reset an infected gold image, but that won't prevent you from getting the virus in the first place. Virtual desktops -- especially when accessed from mobile devices -- offer more ways than ever for users to transfer data and contract viruses. Luckily, antivirus software vendors such as McAfee and Symantec have tweaked their products for use in virtual desktop environments. Continue Reading
Podcast
VDI centralizes data, but users can still get data onto their local devices. That means hackers can access "data at rest" even on a powered-off endpoint. Plus, because virtual desktops are connected to the data center, an attack on one desktop could affect the whole lot. One way to prevent that from happening is through isolation, such as sandboxing. Continue Reading

Download this free guide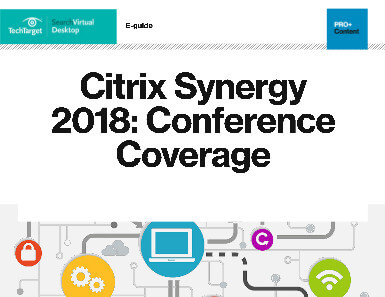 An Inside Look: Citrix Synergy 2018
Save this PDF for an exclusive look at everything that went down at Citrix Synergy this year. Gain vendor neutral insights from our editors about the company's app and desktop delivery products, the winners of Best of Citrix Synergy 2018 Awards and news on emerging technologies.
3

Need-to-know info

-
Virtual desktop security measures
Now that you know how VDI can affect desktop security, check out these methods for securing virtual desktops.