Get started
Bring yourself up to speed with our introductory content.
Understanding Citrix VDI: XenDesktop and VDI-in-a-Box
Citrix VDI options XenDesktop and VDI-in-a-Box may suit different use cases, but that helps the desktop virtualization company bring VDI to any shop.
Introduction
When you think of Citrix VDI, XenDesktop is probably the product that springs to mind. It's Citrix's main competitor against VMware View, and it's one of the company's flagship products.
But Citrix has another VDI product, too: VDI-in-a-Box. It sometimes gets lost in the shuffle because it's not for everyone, but it still has a place in the virtualization world.
Both Citrix VDI options have similar features. They make it possible for you to deliver virtual desktops to your users, but they do it in different ways. XenDesktop is more full-featured and garners more attention from Citrix, which means it gets new utilities and upgrades more often. But VDI-in-a-Box has most of the tools smaller companies need, without some of the extra costs associated with XenDesktop. Get all the details you need about both sets of VDI software in this guide.
1

Glossary

-
Key terms and definitions
Before you dive into the nitty-gritty details of Citrix VDI, brush up on some relevant definitions.
2

Full-grown Citrix VDI

-
XenDesktop
Along with XenApp, XenDesktop is the bread-and-butter portion of Citrix VDI. XenDesktop is unique compared with other VDI software: You can deploy it on Citrix, VMware and Microsoft hypervisors. Enhancements to the product come with each new release, such as PowerShell commands, hybrid cloud integration and virtual GPU developments. Check out everything you need to know about XenDesktop here.

Download this free guide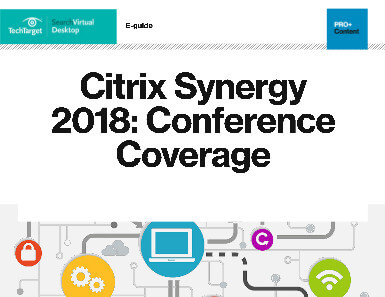 An Inside Look: Citrix Synergy 2018
Save this PDF for an exclusive look at everything that went down at Citrix Synergy this year. Gain vendor neutral insights from our editors about the company's app and desktop delivery products, the winners of Best of Citrix Synergy 2018 Awards and news on emerging technologies.
3

The all-in-one suite

-
VDI-in-a-Box
Citrix has offered VDI-in-a-Box for a number of years now, but the technology isn't for every shop because it doesn't come with a XenApp license and it lacks some of the more in-depth features that customers get with XenDesktop. As a result, it's taken a back seat to XenDesktop and is sometimes overlooked. But VDI-in-a-Box is a great option for companies that only need to deploy a few virtual desktops because it's significantly cheaper than full-fledged XenDesktop.
4

Software smackdown

-
Comparing View and XenDesktop
It's only natural to compare XenDesktop to its biggest competition: VMware Horizon View. Overall, the products are similar, but there are some fine-grained differences, such as how you go about setting up virtual desktop pools, how you handle load balancing and how much customization you can do.