Evaluate
Weigh the pros and cons of technologies, products and projects you are considering.
Nonpersistent vs. persistent VDI showdown
Introduction
Nonpersistent and persistent VDI are two different sides of the VDI story. It is up to IT to discover which deployment method is worth the read.
As far as VDI deployments go, nonpersistent and persistent VDI are fundamentally different approaches. Persistent VDI allows for a personalized user experience, providing a physical desktop feel with the flexibility of virtualization. Nonpersistent VDI removes the personalization by assigning a different, random desktop to users each time they sign in. No matter what a user does, his desktop resets to the master image when he logs out. Both sides of VDI have their pros and cons, so it really is about finding the right fit for certain users.
IT should start by getting to know the major differences between deploying VDI with nonpersistent vs. persistent desktops, the tools and hardware that work best and the key terminology.
1

More to VDI than meets the eye

-
Focus on two types of VDI deployments
There are many differences between nonpersistent and persistent VDI, but there are also similarities. It is up to IT to figure out exactly what users need and then meet those needs with the perfect match. IT must also fit cost, storage and infrastructure pieces into place. Don't get overwhelmed; start with the basics.
2

Keep desktops running smoothly

-
Discover how to avoid VDI complications
Keep VDI in good shape by avoiding these common issues that can break down a deployment. From different types of licensing to VDI image hitches, IT pros should use these tips and management skills to improve their deployment.

Download this free guide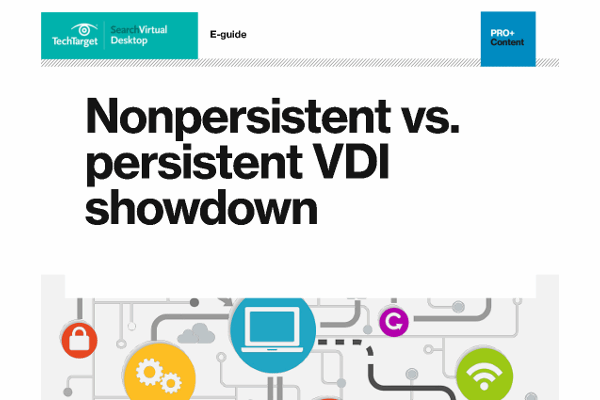 PDF: Nonpersistent vs. persistent VDI showdown
Would your organization benefit more from persistent or nonpersistent VDI? Which approach keeps your desktop running smoothest? This nonpersistent vs. persistent VDI guide weighs the pros and cons of both to help you in your decision process. Download the full guide now for related content.
3

Specialize in shared VDI

-
Tools to customize nonpersistent VDI deployments
Some organizations lean away from using nonpersistent VDI because users lose the ability to customize their desktops, even when it is the best option financially. Now, IT admins don't have to worry as much about the roadblocks with nonpersistent VDI. Introduce personalization into nonpersistent deployments with user profile management and app layering.
4

Terms to know

-
Key terminology behind VDI
Use the glossary to find the major terms surrounding nonpersistent and persistent VDI deployments. Be a step ahead of the game.
5

Pass the test

-
A quizzical look at VDI deployments
It's all fun and games until somebody doesn't have the right VDI. But for now, it really is all fun and games. Take this quiz to see how your nonpersistent and persistent VDI knowledge stacks up.
Take this quiz