 BACKGROUND IMAGE: iSTOCK/GETTY IMAGES
Nonpersistent vs. persistent VDI showdown
Last updated:September 2017
Editor's note
Nonpersistent and persistent VDI are two different sides of the VDI story. It is up to IT to discover which deployment method is worth the read.
As far as VDI deployments go, nonpersistent and persistent VDI are fundamentally different approaches. Persistent VDI allows for a personalized user experience, providing a physical desktop feel with the flexibility of virtualization. Nonpersistent VDI removes the personalization by assigning a different, random desktop to users each time they sign in. No matter what a user does, his desktop resets to the master image when he logs out. Both sides of VDI have their pros and cons, so it really is about finding the right fit for certain users.
IT should start by getting to know the major differences between deploying VDI with nonpersistent vs. persistent desktops, the tools and hardware that work best and the key terminology.
1

Discover how to avoid VDI complications

Keep VDI in good shape by avoiding these common issues that can break down a deployment. From different types of licensing to VDI image hitches, IT pros should use these tips and management skills to improve their deployment.
2

Tools to customize nonpersistent VDI deployments

Some organizations lean away from using nonpersistent VDI because users lose the ability to customize their desktops, even when it is the best option financially. Now, IT admins don't have to worry as much about the roadblocks with nonpersistent VDI. Introduce personalization into nonpersistent deployments with user profile management and app layering.

Download this free guide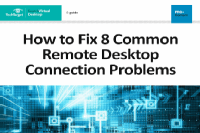 Tips to Fix 8 Common Remote Desktop Connection Problems
There are many remote desktop connection problems that administrators may encounter, including network failure and authentication troubles. In this guide, you'll learn about the top 8 challenges and how to fix them.  
3

A quizzical look at VDI deployments

It's all fun and games until somebody doesn't have the right VDI. But for now, it really is all fun and games. Take this quiz to see how your nonpersistent and persistent VDI knowledge stacks up.