Get started
Bring yourself up to speed with our introductory content.
Guide to calculating ROI from VDI
Cost analysis, budgeting and more
Introduction
Virtual desktop infrastructure (VDI) can decrease hardware costs, increase end-user productivity and mobility, and provide more flexibility for applications and operating systems. But to decide whether implementing VDI is worth the price tag, you need to determine the potential ROI.
Numerous factors go into calculating VDI return on investment (ROI), including the cost of virtualizing workloads, purchasing or repurposing hardware, adding storage or network resources, and training IT employees and end users. Implementing virtual desktops isn't necessarily a money-saving opportunity, but figuring out the possible ROI -- and when you might achieve it -- will help you plan your deployment.
This guide to calculating ROI from VDI provides resources on VDI costs, ways to deploy virtual desktops in the most cost-effective way for your organization and the important factors that go into ROI calculation.
1

Do the math

-
VDI ROI calculation toolbox
Determining your ROI from VDI takes a little doing. Vendors offer calculators to help you, but you have to remember that they're trying to get you to buy what they're selling; their calculations might not be as accurate as your own.
Feature
There are many important questions to ask before moving to VDI. You need to establish what types of users you'll support, which applications and OSes you'll use, whether you'll need remote and/or mobile access, and more. Start adding up your VDI costs and calculating return on investment from VDI with these seven questions. Continue Reading
Tip
It's generally accepted that the initial cost of implementing virtual desktops is about equal to implementing physical desktops (assuming you reuse existing hardware). But analyzing VDI costs for the long-term is much more difficult. Ongoing costs include power usage, results of employee productivity, support and maintenance expenses. To calculate VDI ROI, it's sometimes better to use a simple, flexible model rather than a complex budgeting plan. Continue Reading
Answer
When you start calculating VDI ROI, you might think using an ROI calculator is a good idea. But vendor calculators can't always be trusted, and sometimes ROI calculators are more complicated and time-consuming than you really need. Try using your own tailored method for calculating ROI using three criteria: technical, operational and business justifications. Continue Reading
2

Don't forget storage

-
Components of VDI ROI: Virtualization, storage
Storage and virtualization costs complicate your ROI from VDI. But if you suss out the costs that aren't immediately visible and plan for them, you can paint a more accurate picture of the dollars and cents VDI can save you.
Feature
To strike a balance between VDI costs and storage performance, you have to plan ahead. Virtual desktops come with different I/O and read/write requirements, so you have to decide whether your storage area network will perform as you expect it to. To determine whether desktop virtualization will be worth the cost of storage, figure out your performance needs, how many IOPS you'll need and whether your VDI costs will be similar to physical desktop costs. Continue Reading
Tip
Before you virtualize all your desktops, consider reducing the extent of your deployment to lessen storage requirements and cut VDI costs. Thin provisioning, tiered storage and data deduplication can also help mitigate storage costs. Finally, take into account the hidden costs of VDI storage, such as manual desktop provisioning. Continue Reading
Tip
Separating fact from fiction is crucial for calculating ROI -- particularly vendor plugs and opinions spun into fact-like form. Desktop virtualization ROI is easy enough to calculate in terms of cost, but quantifying cost benefits of VDI can be tricky. Remember that virtualizing any workload can add storage costs, and desktop virtualization doesn't necessarily eliminate hardware or reduce licensing requirements. Continue Reading

Download this free guide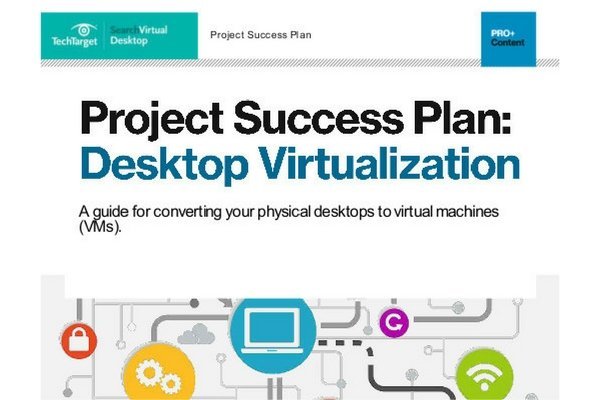 An expert checklist for ensuring successful VDI deployment.
Key tips and tricks you can't afford to miss out on during each phase of the virtual desktop migration process.
By submitting your personal information, you agree that TechTarget and its partners may contact you regarding relevant content, products and special offers.
You also agree that your personal information may be transferred and processed in the United States, and that you have read and agree to the Terms of Use and the Privacy Policy.
3

Balancing act

-
How to lower VDI costs and increase ROI
If you do the cost analysis and determine that VDI is too expensive for your shop, you're not out of luck. There are ways you can decrease the cost of VDI to improve ROI.
News
Storage and networking costs of server-hosted VDI can be too much for limited IT shops to handle. If you're looking for offline support without those server-based VDI costs or client hypervisors, virtual workstations can help. IT admins can still manage desktop images from the data center, but be warned: Workstations don't provide the best security. Continue Reading
News
If you're looking for a way to circumvent infrastructure costs entirely, there is an answer: the cloud. Cloud-based virtual desktops eliminate the costs of implementing VDI on-premises and investing in staff training. You can deliver corporate apps and a Web browser to end users without having to manage the endpoints, plus you save money in the long term by not having to buy PCs, CPUs or memory. Continue Reading
Tip
Smaller organizations can ease the financial burden of deploying VDI by using VDI optimization software to reduce IOPS requirements, virtualizing applications as well as desktops and using a shared or clustered file system. Increasing ROI from VDI and reducing VDI costs for SMBs just requires a little creativity. Continue Reading