Get started
Bring yourself up to speed with our introductory content.
Desktop virtualization market guide
The desktop virtualization market can be intimidating, but VDI isn't the same beast it used to be. DaaS, hyperconverged infrastructure and other improvements have turned VDI into a more appealing prospect for many shops.
Introduction
The desktop virtualization market has changed a lot over the years, so IT professionals who looked at doing VDI in the past may be surprised by what's available now -- DaaS, hyperconverged infrastructure and perpetual product improvements have all helped change the virtualization landscape.
Because virtualization technology evolves so quickly, it can be difficult to keep up with trends and how they can affect your users: Will VDI adoption ever take off? Is desktop as a service (DaaS) right for you? Should you try to sell higher-ups on the value of hyperconverged infrastructure?
Instead of getting bogged down in all the marketing babble, check out this guide for the straight facts so you can get out of the weeds and into desktop virtualization.
1

Glossary

-
Know before you go
Before you take the desktop virtualization plunge, dip your toe in the water with these definitions.
2

Opinions on VDI's future

-
VDI, client-side virtualization adoption rates
When you're considering VDI or client-side virtualization, it's worth taking a look at market adoption rates. VDI adoption has been slow, and it's not projected to permeate every enterprise. Check out what the experts have to say about VDI adoption and whether or not the technology is worth the investment.

Download this free guide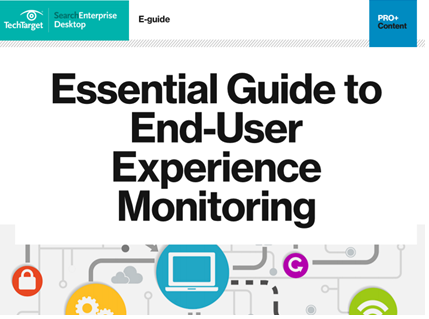 PDF: Essential Guide to End-User Experience Monitoring
Download this guide to compare tools in the end-user experience monitoring market and discover how they can help IT pinpoint and resolve problems faster.
By submitting your personal information, you agree that TechTarget and its partners may contact you regarding relevant content, products and special offers.
You also agree that your personal information may be transferred and processed in the United States, and that you have read and agree to the Terms of Use and the Privacy Policy.
3

VDI variety opens market up

-
Options abound in VDI market
There are plenty of options for buyers in the desktop virtualization market. Ranging from all-inclusive packages from well-known vendors to more specialized offerings from smaller companies, there's a VDI option for every shop.
4

Where is the market headed?

-
VDI market trends and analysis
VDI adoption might be slow, but that's not stopping desktop, application and GPU virtualization. DaaS, hyperconverged infrastructure and other advancements move the market too. Are all those bells and whistles enough to attract potential buyers?
5

Seeing is believing

-
Videos about the virtualization market
Virtualization market experts have differing -- and strong -- opinions. VSAN, solid-state storage and more have given them a reason to talk. Check out our video interviews with these experts to see what they have to say.