Definition
virtual hard disk (VHD)
What is virtual hard disk?
Virtual hard disk (VHD) is a disk image file format for storing the complete contents of a hard drive. The disk image, sometimes called a virtual machine, replicates an existing hard drive and includes all data and structural elements. It can be stored anywhere the physical host can access.

Download this free guide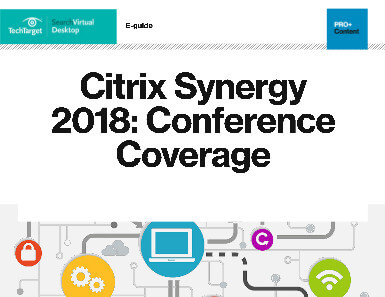 An Inside Look: Citrix Synergy 2018
Save this PDF for an exclusive look at everything that went down at Citrix Synergy this year. Gain vendor neutral insights from our editors about the company's app and desktop delivery products, the winners of Best of Citrix Synergy 2018 Awards and news on emerging technologies.
There are two main types of virtual hard disks: fixed-size and dynamically expanding. Both types have a maximum size value that specifies how large the disk will appear to virtual machines. However, fixed-size VHDs will automatically take up the specified amount of physical disk space on the host computer's file system, whereas dynamically expanding disks will allocate space only as needed.
Learn More About IT:
> Anil Desai explains more about VHD options.
> Wikipedia has an entry for virtual hard disk.
Dig Deeper on Virtual desktop infrastructure and architecture