Definition
Desktop as a Service (DaaS)
Desktop as a service (DaaS) is a cloud computing offering in which a third party hosts the back end of a virtual desktop infrastructure (VDI) deployment.
Content Continues Below

Download this free guide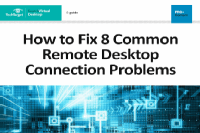 Tips to Fix 8 Common Remote Desktop Connection Problems
There are many remote desktop connection problems that administrators may encounter, including network failure and authentication troubles. In this guide, you'll learn about the top 8 challenges and how to fix them.
With DaaS, desktop operating systems run inside virtual machines on servers in a cloud provider's data center. All the necessary support infrastructure, including storage and network resources, also lives in the cloud. As with on-premises VDI, a DaaS provider streams virtual desktops over a network to a customer's endpoint devices, where end users may access them through client software or a web browser.
How does desktop as a service work?
DaaS architecture is Multi-tenant, and organizations purchase the service through a subscription model -- typically based on the number of virtual desktop instances used per month.
In the desktop-as-a-service delivery model, the cloud computing provider manages the back-end responsibilities of data storage, backup, security and upgrades. While the provider handles all the back-end infrastructure costs and maintenance, customers usually manage their own virtual desktop images, applications and security, unless those desktop management services are part of the subscription.
Typically, an end user's personal data is copied to and from their virtual desktop during logon and logoff, and access to the desktop is device-, location- and network-independent.
VDI vs. DaaS
Desktop as a service provides all the advantages of virtual desktop infrastructure, including remote worker support, improved security and ease of desktop management.
Further, DaaS aims to provide additional cost benefits. Deploying VDI in-house requires a significant upfront investment in compute, storage and network infrastructure. Those costs have decreased, however, thanks to the emergence of converged and hyper-converged infrastructure systems purpose-built for VDI.
With DaaS, on the other hand, organizations pay no upfront costs. They only pay for the virtual desktops they use each month. Over time, however, these subscription costs can add up and eventually be higher than the capital expenses of deploying on-premises VDI.
Additionally, some advanced virtual desktop management capabilities may not be available for certain DaaS deployments, depending on the provider.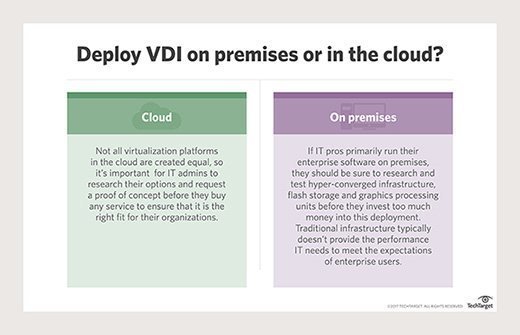 Major DaaS providers
Two leading virtual desktop infrastructure vendors, Citrix and VMware, also provide desktop-as-a-service offerings. Another major DaaS provider is Amazon Web Services, whose offering is called WorkSpaces.
There are also a variety of cloud computing providers that host and manage Citrix and VMware virtual desktops through those vendors' partner programs.
See also: hosted virtual desktop, persistent desktop, nonpersistent desktop
This was last updated in
November 2017
Continue Reading About Desktop as a Service (DaaS)
Dig Deeper on Virtual desktop infrastructure and architecture