What is Clonezilla?
Clonezilla is a free open source disk cloning application based on Debian. Like other disk cloning applications, Clonezilla copies the contents of a hard drive for transfer to another storage medium, such as another computer's hard drive or a removable medium, such as a DVD or a USB drive. Clonezilla is compatible with Windows, Macintosh and Linux operating systems.
There are two versions of Clonezilla, for single- or multiple-machine cloning. Clonezilla Live was designed to clone a single machine without installation. It operates through a LiveDistro on physical media, such as a CD, DVD or USB drive, or can be unicast from a server. Clonezilla SE (Server Edition) uses multicasting to clone multiple disks simultaneously. The Clonezilla website reports that the software can multicast a 5.6 Gigabyte disk image to over 40 computers within 10 minutes.
Content Continues Below

Download this free guide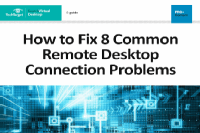 Tips to Fix 8 Common Remote Desktop Connection Problems
There are many remote desktop connection problems that administrators may encounter, including network failure and authentication troubles. In this guide, you'll learn about the top 8 challenges and how to fix them.

Clonezilla was originally designed by Steven Shaiu and was developed at NCHC Free Software Labs.

Learn More About IT:
> The Clonezilla website provides downloads, instructions and a FAQ list.
> Ye Olde Rad Blog III discusses Clonezilla and disk cloning.

This was last updated in
January 2010
Dig Deeper on Virtual desktop management