News
Stay informed about the latest enterprise technology news and product updates.
Citrix Synergy 2017 conference coverage
Look back at all the updates to Citrix products such as XenApp, XenDesktop and XenMobile as well as news on emerging technologies at Synergy 2017, which took place from May 23-25 in Orlando, Fla.
Introduction
Like a heavyweight boxer, Citrix has taken its fair share of punches over the years, including layoffs, declining profits and a major leadership shakeup, but it keeps getting back up off the mat.
Attendees at Citrix Synergy 2017 saw the vendor show that -- under new CEO Kirill Tatarinov -- the company is back in position to dole out a few hits of its own. In the last year, Citrix has emphasized its core products, including making numerous significant updates to XenDesktop and XenApp, and strengthened its partnership with Microsoft.
Citrix also made a pair of crucial acquisitions in the last 12 months. The company purchased Norskale in September 2016 to bolster user environment management, and in January 2017 it picked up Unidesk to fold into its application layering capabilities.
Now that the company has its feet under it again, Citrix Synergy 2017 was the perfect time for Citrix to show off what it's going to do next. The conference took place May 23-25 in Orlando, Fla. and we covered all the news from the show with expert analysis, as well as details on the winners of the Best of Citrix Synergy 2017 Awards.
1

On the show floor

-
News from the conference
Read here for the latest news and session coverage on Synergy 2017.
2

Expert advice

-
Lessons learned
Take a look at the latest tips, columns and analysis of the technologies at Citrix Synergy 2017, and get up to speed with session recaps and answers to frequently asked questions.

Download this free guide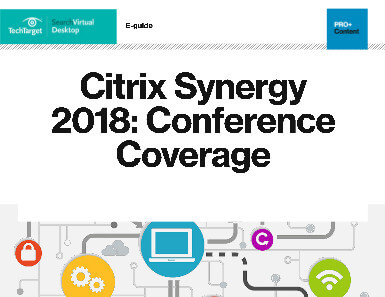 An Inside Look: Citrix Synergy 2018
Save this PDF for an exclusive look at everything that went down at Citrix Synergy this year. Gain vendor neutral insights from our editors about the company's app and desktop delivery products, the winners of Best of Citrix Synergy 2018 Awards and news on emerging technologies.
3

Glossary

-
Top terms
Brush up on the definitions of some of the most common terms heard at Synergy.
4

Before you go

-
Preconference news and analysis
Before Citrix Synergy 2017 kicks off, see what our contributors expect to see at the show and get caught up on all the latest Citrix news.