News
Stay informed about the latest enterprise technology news and product updates.
Citrix Synergy 2015 conference coverage
News and analysis from the Citrix Synergy conference, May 12-14 in Orlando.
Introduction
Citrix Synergy attendees will learn what the company has in store for the near future, and it's safe to say the software-defined workplace will play a big role.
Synergy is, of course, still about desktop and application virtualization, networking, mobility and cloud computing. But this year Citrix will put even more focus on the idea of software-defining everything, which is changing what IT shops look like. Software-defined networks, storage and whole data centers can be more nimble, programmable and dynamic -- a model that resonates with IT professionals seeking to make their lives easier, and with companies that want to support users in new and potentially more effective ways.
The conference takes place May 12-14 in Orlando, and we'll deliver all the news from the show with expert analysis, as well as the winners of the Best of Citrix Synergy 2015 Awards.
1

New Citrix updates

-
From the show
Check out all the news from Synergy 2015 and find out what happened, straight from the conference floor.
2

Tips and tricks

-
Expert Citrix advice
Take a look at the latest tips, columns and analysis of the technologies on display at Synergy 2015, and get up to speed with session recaps and answers to frequently asked questions.

Download this free guide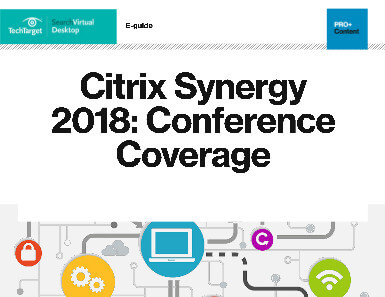 An Inside Look: Citrix Synergy 2018
Save this PDF for an exclusive look at everything that went down at Citrix Synergy this year. Gain vendor neutral insights from our editors about the company's app and desktop delivery products, the winners of Best of Citrix Synergy 2018 Awards and news on emerging technologies.
3

Top Citrix terms

-
Glossary
Brush up on the definitions of some of the most common terms you'll hear at Synergy.