Assess and evaluate the range of VDI tools for monitoring deployments
Editor's note
Desktop virtualization monitoring is essential for helping administrators oversee and manage virtual desktops and the user activity that occurs on them. VDI is the major way for admins to deliver virtual resources, such as desktops, applications and data, to users. VDI tools let admins monitor their VDI systems and all of the layers that comprise them -- user's device, user's local network, connecting network, data center network, VDI gateway, VDI broker, Windows infrastructure and virtualization platform. An effective VDI monitoring tool should pinpoint in which layer(s) a problem is located and provide admins visibility into how the layers are or are not working. IT should be able to look into the experience of both a single user and groups of users to ensure they have the best desktop experience.
Buyers must know the size and state of their VDI deployment before analyzing the various software options, since some environments may not be able to support certain products. While standard virtualization software may provide a smaller deployment with sufficient VDI management, medium-sized and larger organizations should look at tools that provide operations and help desk troubleshooting, capacity planning, application performance monitoring, and real-time management and load testing, as well as assess how these functions would keep their VDI deployments on track.
This buyer's guide simplifies the complex process of purchasing VDI monitoring tools to help buyers understand how VDI tools function, why an enterprise would or would not require them and, finally, which vendors and tools would be most beneficial for their VDI deployment.
1

The features of VDI tools and how to evaluate them

Learn about the different business cases and types of organizations that would need VDI monitoring tools and how these tools address those needs.
2

The features of VDI tools and how to evaluate them

Discover the notable functions and capabilities that VDI monitoring tools possess and, of these features, what buyers should look for when evaluating what VDI management technology would be most suitable for their enterprise.

Download this free guide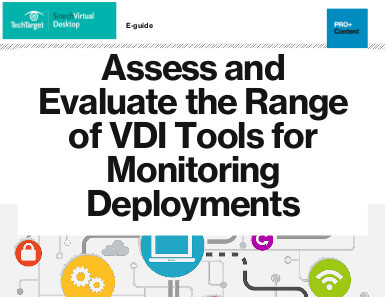 Free Download: Your Guide to VDI Monitoring and Management Tools
Download this PDF to help decide if you need VDI monitoring and management tools, and if so, which ones will be best for your organization.
3

Comparing the VDI vendors and their features

Read about the VDI monitoring vendors available in the market so IT buyers can get the information they need to select the product that best suits their VDI deployment.
4

Explore the VDI monitoring tools and vendors in the market

The VDI monitoring market offers a diverse range of vendors for buyers to consider. Read this in-depth overview of the different VDI tools available -- their features, capabilities, versions and the buying and licensing options available.