Brian Madden on Desktop Virtualization User Trends in 2013
Brian Madden's analysis of a desktop virtualization survey.
Looking for something else?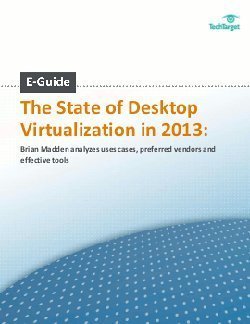 Desktop virtualization is not about saving money. Desktop virtualization is not about making your desktop environment easier to manage. Desktop virtualization doesn't increase the overall security of your environment. And, to top it all off, moving a desktop to the data center is hard.
Why, then, have virtual desktops been positioned as a cure-all for many of today's endpoint issues, particularly BYOD issues?
We reached out to our users for answers – and to investigate the true impact of current end user computing trends on the way we deliver desktops and on the age-old dominance of Windows in the enterprise – by surveying a select group of SearchVirtualDesktop.com members who have already bought, or who plan to buy, desktop virtualization in the next 12 months.
Brian Madden – founder of web community and blog BrianMadden.com, a leading source for conversation, debate and discourse about the application and desktop virtualization industry, and creator of BriForum, the premier independent application delivery technical conference – is uniquely qualified to review the results and, as such, has done so and provided his following observations in this exclusive download.
See for yourself how your peers' responses compare to your own and determine if – and in which instances – your organization could potentially implement or extend its VDI initiatives.
Dig deeper on Virtual desktop infrastructure and architecture