Virtual Desktop Infrastructures: Overcome Bandwidth Limitations for VDI Success
By Frank Ohlhorst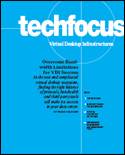 The virtual desktop ecosystem is vast and continues to expand. Because VDI is network-dependent, you need to ensure that your network can support the heavy graphics that today's desktops demand. If not, latency will spoil the end-user experience.
Finding the right balance of protocols, bandwidth usage and third-party tools will facilitate a virtual desktop deployment in your enterprise. This handbook outlines virtual desktop protocols and digs deeper into Microsoft's Remote Desktop Protocol. You'll also get an understanding of how to measure your bandwidth needs and what to look for in a measurement tool.
Handbook segments include the following:
Virtual desktop infrastructures: The big picture
Microsoft pushes the RDP envelope
Fighting contention on the WAN
Performance measurement and management tools
---
This was first published in January 2010