Get started
Bring yourself up to speed with our introductory content.
VDI pilot project guide
How to ensure VDI implementation success
Introduction
Once you've decided VDI is right for your organization, it's time to get a project plan under way.
As you begin a VDI pilot project, check out all the product options and consider costs, management style, deployment options and more. You need the right product to suit your needs. Most importantly, you need a VDI project plan that will benefit the end users.
Planning your first virtual desktop implementation can be overwhelming, and you'll probably hit a few snags, but you can learn from those who have gone before you. This VDI pilot project guide will help you navigate vendors and software options and ensure that you don't fall into any of the common pitfalls. See how other pilots have succeeded and why some have failed.
1

Understanding product options

-
VDI project plan
Before you begin your VDI pilot, figure out what you need, check into different vendors and see what they have to offer -- and at what price.
2

Don't fall in!

-
VDI pilot project pitfalls
Learning about some common mistakes IT shops make that can cause your VDI pilot to fail can help you avoid problems before they crop up.

Download this free guide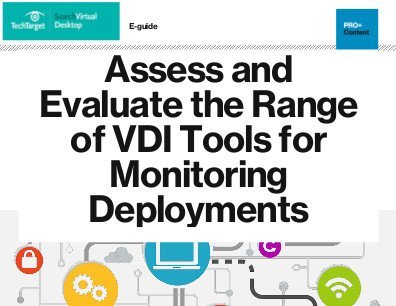 Download 16-Page PDF: Assess and evaluate the range of VDI monitoring and management tools
This is your expert guide to choosing the right VDI monitoring and management tools, what to expect and when to use them. Inside, you'll learn what compromises a strong VDI deployment, the different layers and capabilities of a VDI monitoring platform and the benefits they bring to the enterprise.
By submitting your personal information, you agree that TechTarget and its partners may contact you regarding relevant content, products and special offers.
You also agree that your personal information may be transferred and processed in the United States, and that you have read and agree to the Terms of Use and the Privacy Policy.
3

How not to fail

-
VDI project failure and success stories
Proofs of concept (POC) are important, but sometimes even they don't get off the ground. Luckily, there are steps you can take to keep things moving and revive your POC.
Tip
A VDI pilot project can be overwhelming, so you can benefit from the lessons this IT expert learned the hard way. For example, focus your attention on the end-user experience rather than simply monitoring the system. Follow these and other pieces of advice to ensure that you're ready to take on VDI. Continue Reading
Tip
When starting your VDI project plan, it's important to test product options so you know which one works best for your environment. Your company may be a faithful VMware customer, but you might discover a Citrix product that works even better, or vice versa. As you test VDI and compare products, consider the proof of concept virtual infrastructure, the end-user experience and whether to use thick or thin clients. Continue Reading
Tip
If you've already attempted a VDI proof of concept and it didn't go well, worry not. There are ways to recover. Take into consideration your budget, your initial assumptions about VDI and the users you bring to your test environment. Continue Reading