virtual desktop
A virtual desktop is an individual user's interface in a virtualized environment.The virtualized desktop is stored on a remote server rather than locally. Desktop virtualization software separates the physical machine from the software and presents an isolated operating system for users. Desktop virtualization tools include Microsoft Virtual PC, VMware Workstation and Parallels Desktop for Mac. (Continued)
Looking for something else?
TECHNOLOGIES
What is a virtual desktop?
Access this 48-page beginner's guide to VDI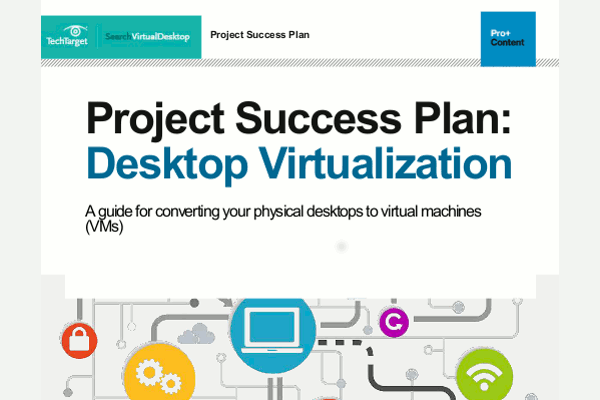 Explore the top reasons to adopt VDI, and learn how to prepare your infrastructure and staff for migration, select the right VDI technologies, evaluate costs and more.
By submitting your personal information, you agree to receive emails regarding relevant products and special offers from TechTarget and its partners. You also agree that your personal information may be transferred and processed in the United States, and that you have read and agree to the Terms of Use and the Privacy Policy.

1. A virtual desktop is an individual user's interface in a virtualized environment.The virtualized desktop is stored on a remote server rather than locally.
Desktop virtualization software separates the physical machine from the software and presents an isolated operating system for users. Desktop virtualization tools include Microsoft Virtual PC, VMware Workstation and Parallels Desktop for Mac.
The benefits of desktop virtualization include:
Cost savings because resources can be shared and allocated on an as-needed basis.
More efficient use of resources and energy.
Improved data integrity because backup is centralized.
Centralized administration.
Fewer compatibility issues.
Knowledge workers who use mostly business software applications are good candidates for desktop virtualization. The model is not generally viable for users with high resource demands.
See also: desktop virtualization infrastructure (VDI)
2. On a single host machine, a user may have separate virtual desktops for different applications. One desktop might feature applications for graphic design, for example, and another might feature business applications.
Learn More About IT:
> Wikipedia has more information in its entry for desktop virtualization.
> Brian Madden explains 'The secret to saving money with desktop virtualization.'
> Dave Sobel offers a FAQ list about desktop virtualization and virtual desktop infrastructure.
PRO+
Content
Find more PRO+ content and other member only offers, here.